The Flying Serpent
(1946)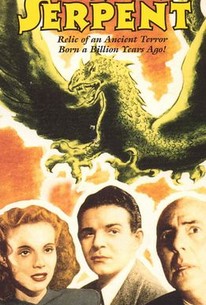 AUDIENCE SCORE
Critic Consensus: No consensus yet.
Movie Info
A crazed, avaricious archaeologist uses an unusual means to protect his newly discovered Aztec treasure in this horror movie. To guard it, he invokes the Aztec plumed god Quetzlcoatl. All the digger has to do is put a feather upon the back of the victim and the enraged god, in the form of a prehistoric bird, will swoop down and claw the victim to death until it can get it's stolen feather back. Essentially a remake of The Devil Bat.
Critic Reviews for The Flying Serpent
All Critics (3) | Fresh (1) | Rotten (2)

Ozus' World Movie Reviews
Zucco, a lovably hokey flying monster...what's not to love?

Mountain Xpress (Asheville, NC)
Audience Reviews for The Flying Serpent
Not as exciting as it appears to be, but it's still an interesting murder mystery with a creature twist. The characters are a bit lacking, and the plot is pretty slow. The monster was a bit cruddy looking, yet fun. Nothing too memorable, but I wasn't disappointed.
Wes Shad
Poverty Row film by PRC reworks their DEVIL BAT film using the Quetzalcoatl myth and replaces Bela Lugosi with George Zucco. Rather bland adaptation lacks the Lugosi charm and wry script of The Devil Bat, but Zucco is interesting as always and the creature effects capture attention. In poorly lit scenes, it looks as if a monitor lizard was outfitted with appliances and this creates creepy live-action movements. The scenes involving the Flying Serpent's flight are surprising as well. Hope Kramer has an different sort of beauty, but the going is rather rough for a 58 minute film. For Zucco and Poverty Row fans only.
Dr. Jitters
The Flying Serpent Quotes
There are no approved quotes yet for this movie.
Discussion Forum
Discuss The Flying Serpent on our Movie forum!