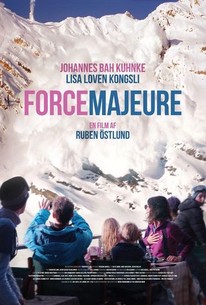 Force majeure
2014, Comedy/Drama, 2h 0m
163 Reviews
10,000+ Ratings
What to know
critics consensus
Gleefully uncomfortable, Force Majeure is a relationship drama that's hard to watch -- and just as difficult to ignore. Read critic reviews
Where to watch
Rent/buy
Rent/buy
Subscription
Rent/buy
Rate And Review
Movie Info
A man's selfish reaction to the danger posed by an avalanche causes cracks in his marriage and relationships with his children.
News & Interviews for Force majeure
Audience Reviews for Force majeure
After screening this film I was surprised to read so many critics state that there were many funny moments. I could not find the comedy in this movie. What I saw was an Ingmar Bergman type drama film with a Stanley Kubrick sensibility. It's intense and haunting.

I've been meaning to watch 2014's Force Majeure for some time but it was one of those movies that just fell behind and got trapped by the ever-increasing backlog of "to see" films. Then I discovered that there was to be an American remake by the Oscar-winning writing team behind The Descendants and I decided now would be a good time to go back to Force Majeure. But I purposely chose not to watch the Swedish original until after having watched the American remake, Downhill, to not prejudice myself. Both movies have value as cringe comedies prodding fragile masculinity, though the Swedish import runs more with the cascading consequences and the English remake plays more broadly with its big stars. Both movies follow families on skiing vacations where the father (Johannes Kuhnke as Tomas, Will Ferrell as Pete) abandon their wives (Lisa Loven Kongdli as Ebba, Julia Louis-Dreyfus as Billie) and children when an approaching avalanche looks to be imminently deadly. It proves to be harmless but the scare it created was very real, and the damage to this family is also very real. In their dire moment of need, as death looked increasingly possible, this family watched its patriarch run away to save himself (and not before grabbing his phone). The father denies running away, finding his own slippery slope of excuses to pretend and convince his family that everything is still the same. Downhill takes the very specific tone of Swedish original by writer/director Ruben Ostlund (The Square) and plays it safer and more broadly. There's an added context of the ski lodge being a couple's resort with the idea of horny and available alternatives just a slope away for fun. The movie is practically throwing a more traditionally "manly" and virile romantic candidate at Billie and it's so obvious and immediate that it reminded me of the sexy yoga instructor from 2009's Couples Retreat, another movie that involved a holiday retreat with two camps, one more family-friendly and another more hedonistic. It feels too convenient and crass to immediately present our heroine with prime cheating options and have her question her own fidelity. In Force Majeure, one of the best and most awkward moments occurs when Tomas tries to portray himself as an equal victim to his own shortcomings as a man. He lists several faults, including infidelity, that don't phase his wife, which implies she is well aware of this man's flaws. It's such a pathetic moment of emotional manipulation that incredulous laughter is the only natural response, and the movie makes the viewer stay in that uncomfortable squirm. Tomas lays on the floor wailing like a child, which then triggers his children to come out and lay upon their weeping father and then admonish their mother to follow their supportive lead. It's a hilarious moment and borne from the organic developments tied to character relationships. In Downhill, by contrast, we get stuff like the sexy ski instructor and a really horny, handsy lodge lady (Miranda Otto, in thick accent). That's not to say the remake doesn't find effective ways to make the most of its American infusion. There's a scene where Pete and Billie are complaining to the ski lodge staff because someone must account for their perceived injury. The moment doesn't go as they hoped and the security head (Game of Thrones' Kristofer Hivju) refuses to apologize or admit any wrong. He points out all the warnings that the American couple somehow missed, and this only causes Billie to grow in her important agitation. It's a moment that plays to the ugly American stereotype of self-absorption and the insistence to be heard. This scene would not have worked with the Force Majeure characters at all. Billie is a more interesting character and given more ambiguity and flaws than Ebba, who is often the perplexed voice of the audience. There are adaptation changes and new jokes that work for Downhill, but more often it doesn't explore the comic avenues open to it (hashtag jokes… really?). The best jokes are frequently holdovers. Something I enjoyed exclusively about Force Majeure was how it widened its scope to include the contagious nature of questioning masculine assumptions. The supporting characters have more significance tan in Downhill. Tomas' friend, Mats (Game of Thrones' Kristofer Hivju), begins as an awkward lifeline trying to offer meager supportive explanations to his beleaguered friend's cowardice ("You ran away so that you could come back and dig everyone out, right?") and then he too is negatively affected. His much younger girlfriend begins to look at him differently and with suspicion, wondering if he too would disappoint when under a similar life-threatening scenario. She questions whether it's simply a generational divide and an older generation (him) just doesn't feel as brave and selfless. This eats away at Mats and wreaks havoc with his relationship. You too might consider how well you really know your loved ones and how you might respond as well. It's such a wonderful what-if scenario to apply to one's self. This contagious nature of doubt makes the story feel that much more interesting when one man's failings can spiral outward and ensnare others. This deepened the dark comedy and provided interesting and complimentary side characters. With Downhill, we don't really get any other characters on the same level of thought as our main couple, Pete and Billie. The children actually play a bigger role in Downhill as the relationship between the sons and their father is on the brink. They see him decidedly different and Pete spends time trying to regain their favor and trust and, naturally, failing. With Force Majeure, the children are kept on the sidelines and they're more worried that mom and dad may be doomed to a divorce rather than being upset or disappointed with their father. Downhill clearly aligns the sons with their mother and has Billie call upon them to provide corroborating testimony to her account, in one deliciously awkward extended moment. It's one area where Downhill bests its source material but again that's because it also dramatically scales down the importance of supporting adults. Ferrell (Holmes & Watson) and Louis-Dreyfus (Veep) are such an enjoyable comedy pairing and work together for Downhill's broader aims. The Swedish actors are far more subdued, understated, and dry, dissolving into playing mundane, regular folk. You're not going to get that with Ferrell especially. His big screen buffoon tendencies play well for Pete's blustery self-deluded narcissist, but he lacks the bite for the destructive self-pity that emboldened Kuhnke. Ferrell's performance is more restrained than you might assume but he still doesn't feel like the right fit for the character and where he needs to go. He never stops being Ferrell. Louis-Dreyfus is such a pro and is able to navigate the bleaker comedy with great precision. Her shaken monologue retelling the avalanche incident and pausing on "… to die, I guess" had me rolling. Downhill is over 30 minutes shorter and yet it feels stretched thing, circling the same comic points, which can make the film feel frustratingly smaller in scope and ambition. The endings are different and come across a similar questioning message over never knowing how a person may respond in the middle of danger. Force Majeure concludes with a scenario that allows its wounded males to save some honor and the women to question their own responses, a paradigm shift of expectations. The triumphant recapturing of masculinity builds to its own satirical breaking point, ready to laugh at Tomas feeling like a ridiculous John Wane-style cowboy. In contrast, the American ending doesn't feel as rich or as earned as its predecessor. Downhill is an accessible and funny remake that has some smart deviations from its source material to deliver its own version, and sometimes it feels like the filmmakers want to make a much more mainstream comedy. The tonal identity issues sap the comedy and dramatic momentum of the story, which can make the overall film frustrating and unsatisfying at times while you wait for it to settle. Then its 85 minutes are over and it's done. Force Majeure, on the other hand, is the most confident, strident, and awkward viewing, not to mention longer at two hours in length. It's actually too long and with a few segments that could be trimmed or removed entirely (drone flying, the first set of friends, getting lost in a snowy fog). There's even a running joke where the gag is simply that the ski lifts and moving sidewalks are just super slow. The movie takes its understated, dry comic sensibility even to its relaxed sense of pacing. Both movies are funny and emphasize different aspects of the premise of the consequences of cowardice. I likely would have enjoyed Downhill less had I seen Force Majeure first but it's still a decent American remake for something that was so calculating and exact in tone, a laugh-out-loud comedy that doesn't play like a comedy. Still, co-writers/director Jim Rash and Nat Faxon (The Way Way Back) have enough skill and polished instinct that even a less sophisticated, more obvious version of Force Majeure is still entertaining enough. It might lack some of the edge of the original but Downhill is an agreeable comedy of disagreeable decisions. Nate's Grades: Force Majeure: B+ Downhill: B-

Family drama that easily could have been half an hour shorter. There is some interesting camera work, but a mix of genuine and oddly forced situations and conversations. Parts of the film feel as slow and exhausting as being in a bad relationship. Still, most of the film, like its random end sequence is oddly memorable.

Self inflicted torture. Thank goodness for the fast forward feature as it would hardly move by itself. So much time spent on showing characters walking, sleeping, eating, brushing, skiing, etc. that hardly adds anything to the story. Just filled with too much of nothingness. There were a handful of worthwhile moments, but not enough to overlook its pacing. Being lauded by so many viewers, I kept waiting for something interesting to happen, but in vain eventually. Even at the end, when they show a group of people walking, I hoped something to happen. But they kept walking for a while, and the movie ended there abruptly. Art lovers & elite cinegoers might surely hail this flick as meaningful cinema, but to ME, it's sheer BS & an exercise in futility.
See Details