Frankenstein's Daughter
(1958)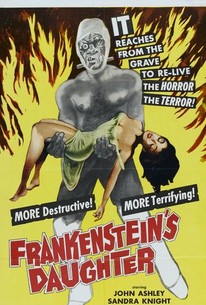 AUDIENCE SCORE
Critic Consensus: No consensus yet.
Frankenstein's Daughter Photos
Movie Info
Frankenstein's Daughter, a low-budget American horror movie badly directed by Richard E. Cunha, is another in a series of poorly made adaptations of Mary Shelley's classic horror novel. Here, the original Dr. Frankenstein's grandson, Oliver Frankenstein (Donald Murphy), now living in Los Angeles, creates a female version of the Monster from sweet teenage girl, Trudy (Sandra Knight) who then goes on a killing rampage. This thriller, with poor production values and bad sets, has some intentional humor, but little real horror. Also released as She Monster of the Night, Frankenstein's Daughter was featured in It Came from Hollywood, an amusing and loving tribute to horror films and their makers. Also, lovers of trivia should note that Sandra Knight, who plays Trudy, would later become the wife of actor Jack Nicholson.
Critic Reviews for Frankenstein's Daughter
There are no critic reviews yet for Frankenstein's Daughter. Keep checking Rotten Tomatoes for updates!
Audience Reviews for Frankenstein's Daughter
I don't know who approved the premise of this movie but they should have had their head examined. This sounds like an idea pitched in a board room full of ideas but immediately discarded. Frankenstein's Daughter plays very much like a William Castle movie, which might have been the approach. A lot of things don't make sense and are never resolved, like the fact that Trudy is constantly drugged into being a monster for no apparent reason because the mad doctor is already working on his own monster and not particularly concerned with the one he drugs every night. I don't know. There were a couple of genuinely creepy moments during the transformations, and probably would have scared me as a kid, but this was more or less a waste of time. There's some mystery and suspense, but the motives and logic are just a mess. Even in a dumb horror movie that stuff needs to work if I'm supposed to be taking it seriously, and the movie wants me to do that, and I can't. Another skippable movie with a horrible premise and execution.
Tim Salmons
Super Reviewer
Frankenstein's grandson isn't too popular with the ladies, he keeps turning them into monsters... This movie is too stupid to watch.
.A great Pre 1960 Horror Film made for the big screen (Drive-In), Grandson Oliver Frankenstein played by Donald Murphy. Picks up where Dad and Granddad left off, but is successful in creating a female Frankenstein which is played by a male Harry Wilson. who had 265 film credits to his name. In this movie we have 2 beautiful girls , the professors daughter played by Sandra Knight, and her trashy friend Suzie Lawler played by Sally Todd. Back in the day when teenagers were roled by adults. All in all a great Old School horror flick, 4 stars.
Bruce Bruce
Super Reviewer
Frankenstein's Daughter Quotes
There are no approved quotes yet for this movie.