Fritt Vilt 3 (Cold Prey 3)
(2010)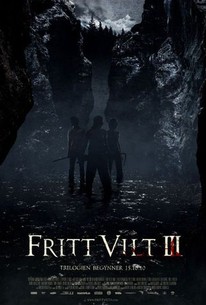 AUDIENCE SCORE
Critic Consensus: No consensus yet.
Movie Info
A prequel to the first two Cold Prey movies taking place in the 80's where a group of teenagers go to visit the abandoned hotel, only to find themselves hunted by the psychotic killer through the Norwegian woods.
Critic Reviews for Fritt Vilt 3 (Cold Prey 3)
Audience Reviews for Fritt Vilt 3 (Cold Prey 3)
½
Wasted potential on a well thought prequel, offering the same as it's predecessors. Good looks, nice enough characters and well pulled tense sequences. I think it's time to end the franchise here, it has nothing more to offer.
Francisco Godinho
Super Reviewer
Third film in the Cold Prey trilogy is a prequel to the first two films and it takes place in the 1980's. For a third entry in a Slasher franchise, this still has plenty of effective ideas to make it an interesting watch for genre fans. Cold Prey still has all the necessary things that you'd expect from this series, and it not only relies on gory kills, but suspense and atmosphere to build the tension on-screen. The Norwegians are truly wonderful in creating intense horror films that bring back traditional elements that has made the genre worth seeing. This prequel should appeal to fans, but like every other third part in any series, the film does start to show a certain lack of inspiration. Luckily the film does still have lots to offer for fans looking for effective thrills. Cold Prey 3 could have been done better, but like I said, there is enough good material presented here to make for a worthwhile viewing experience. I enjoyed the prequel and it has everything that I enjoyed from the first, albeit a tad watered down. However that is to be expected from a third film. This entry still has lots of gore and effectively great kill sequences that make up for a good Slasher film. The Cold Prey films were a breath of fresh air in a horror genre that was stagnant, cliché and lacked anything that was truly entertaining. For a prequel, Cold Prey 3 will surely appeal to fans and it is a horror picture that delivers the good yet again. Although this better be the final entry in the series as we see that the film's ideas are struggling in some areas. Nonetheless, this is still a worthwhile movie and one that delivers from start to finish.
Seems like the director took the title a bit too seriously & went on to put it into effect on its audience. Well, at least on one of the world's most important one. Such literal transitions of the titles ought to be forbidden. For what its worth, it makes the first two parts look incredible. Relatively. Here, it only gets worse. I'd to constantly keep reminding myself that at least it's not the worst I've been put through. Having seen worse sometimes comes to rescue. Nothing worth elaborating about the plot and the performances herein. Feel free to imagine the helplessness and interpret it your way.
familiar stranger
Super Reviewer
Fritt Vilt 3 (Cold Prey 3) Quotes
There are no approved quotes yet for this movie.