The Hideaways
(1995)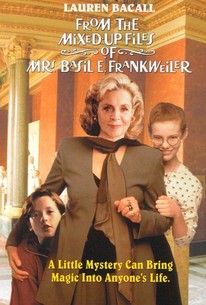 AUDIENCE SCORE
Critic Consensus: No consensus yet.
Movie Info
In this children's movies, a young brother and sister escape from the boredom of their suburban neighborhood and high-tail it to the Metropolitan Museum of Art in New York City. There they wind up hiding within the maze of hallways until the girl finds a beautiful white statue. She is captivated by it and becomes obsessed with trying to discover if it is really a Michaelangelo. This leads her and her brother to the mansion of a 70-year old recluse with whom the girl becomes friends. They begin sharing their secrets and talking about art.
Critic Reviews for The Hideaways
All Critics (1) | Fresh (1) | Rotten (0)
Pays tribute to an independent girl who fulfils her dreams and learn one of the lessons of maturity.

Spirituality and Practice
Audience Reviews for The Hideaways
The children actors in this movie are likable and give good performances. The story actually makes sense and is easy to follow. Overall, watching this was fun and made me feel like going off on an adventure of my own.
Alicia Kistner
Lauren Bacall and Brian Krakow First, let me tell you one thing--IMDB lies. Under "Filming Locations," it informs us that this was filmed (at least in part) at the Los Angeles County Museum of Art (LACMA) on Wilshire Boulevard in LA. This is, I can most assuredly promise you, not true. At all. LACMA is housed in a very modern-looking building, I believe from the sixties, and looks nothing like the classic architecture of the museum presented herein. (Which is also not at all like the Metropolitan Museum of Art, which it's implied to be and which it is in the book, but is obviously not because of how obviously the movie was filmed in LA and not New York.) I happen to know, in fact, that the long case the kids walk past a couple of times does not house art. In point of fact, it houses a coelocanth. This is because the museum shown isn't actually an art museum at all. It is the Los Angeles County Museum of Natural History, which is in a much lovelier building. The part of the building they show most often was built in 1913. I also happen to know that the entrance they show the kids using most often assuredly does not open onto the street. No entrance of the museum does; it's in the middle of a park. This is why the walk sign wobbles visibly. It's a fake. Claudia Kincaid (Jean Marie Barnwell) feels put upon. This is largely because she very clearly is. She has two brothers, the older Steve (Devon Gummersall) and the younger Jamie (Jesse Lee Soffer), but it is Claudia who seems to do all the housework. One day, she decides she's had enough of this, and she makes up her mind to run away. She brings Jamie along as part of her plan, largely because the little bugger's such a cheapskate that he has managed to save up quite a lot of money. (In the book, it's about $24, but it's clearly much more here. Inflation, you know.) Claudia has decided that the best place to run away [i]to[/i] is the museum. There, she can live in comfort. There's no danger. There will be a roof over her head, it will be warm, and there will be access to all the amenities to which she is accustomed. Jamie, who wants to live in the woods, is hugely disappointed. (They'd have to travel an awful long way to get to the kind of woods he's imagining anyway.) However, when they get to the museum, Claudia becomes fixated on a statue of an angel that may or may not be the work of Michelangelo Buanarotti. This is, frankly, a dreadful adaptation. Oh, I heartily approve of the casting of Lauren Bacall as the eccentric titular character, for all she's too beautiful still. Most of the rest of the casting is pretty good, too. However, for one, I am deeply annoyed that Mrs. Frankweiler puts in an appearance so soon in the movie. As in, before Claudia and Jamie. Admittedly, she's the narrator of the book, and Claudia knows about her quite early in their stay at the museum, but she doesn't physically appear in the book until (in my copy) page 125. Certainly the ridiculous scene where Jamie rescues her from stepping on gum in the museum is unnecessary. The angel looks nothing as described in the book, not least being that it's too big. (The quarry mark under the statue's missing the "M," too.) The children leave Mrs. Frankweiler's files a mess. There's the pointless addition of the nosy guard (M. Emmett Walsh), who seems to be on duty at all times. And the parents get too much time. Honestly, the museum layout doesn't make a heck of a lot of sense, as is not surprising given that none of the exhibits belong in that museum anyway. We pass on the notion of Amy Robsart's murder bed--it's so described in the book and may well be so described in the museum as well, for all it's ridiculous. Amy Robsart, first wife of Robin Dudley, fell or was pushed down a flight of stairs and did not die in bed at all. However, the contents seem all crowded together without any kind of order. The line to get into the museum and the line to see the most prominent new exhibit are the same line. The drawers and such of the furniture aren't fastened in any way, despite the fact that a museum director would know the public's insatiable interest in knowing what's in those drawers. Even though, logically, there shouldn't be anything. (Do they expect to see poor Amy Dudley's underwear?) Oddly, it seems implied that there are only two bathrooms in the place. Movie-Claudia also fails to note any possibility of security beyond the guards, who are frankly kind of incompetent. I also happen to know that, at least at the time this was filmed--I understand there's been some remodeling since--one of the galleries was just one big vault which is sealed off at night. More than that, I'll admit, I don't know a lot about the security, and I suspect how museum security works now and how it worked in 1967, when the book was published, may well be different. Actually, I've walked the halls of that museum--and, as it happens, LACMA--over and over again. You see, my mom has memberships to both museums. I was pretty sure, early in the movie, that it was the natural history museum, but when they showed that lovely statue of three of the Muses, I knew. It's unmistakable. I have always loved that statue, ever since I was very small indeed, and it has always amused me how many cities they've pretended it's in over the years.
Edith Nelson
65/100. Although it is far fetched in many ways, the winning performances of the child stars and the presence of Lauren Bacall make it worthwhile. It's an interesting plot and a very well meaning film.
James Higgins
The Hideaways Quotes
There are no approved quotes yet for this movie.
Discussion Forum
Discuss The Hideaways on our Movie forum!