Frontier(s)
(2007)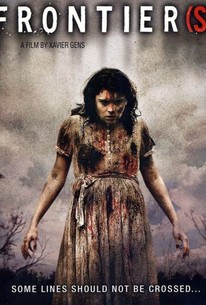 TOMATOMETER
AUDIENCE SCORE
Critic Consensus: Perhaps slapdash with its aspirations toward message-making, this ultra-gory horror flick nonetheless delivers the bloody goods.
Movie Info
The banlieues of Paris are burning, and as a young girl from the slums attempts to elude police by hiding out at a sprawling inn near the Luxembourg border she becomes locked in a vicious battle for survival against a group of Neo-Nazi fanatics intent on using her to start a new Aryan brotherhood. As the votes cast in the latest election are tallied, it quickly becomes apparent that an extreme right-wing party has been elected into power by a wide margin. In the aftermath of the announcement, the streets fill with protestors and riots erupt all throughout the country. Yasmina is a poor girl who has never known a life outside of the ghetto, and she sees the riots as an opportunity to stage a series of smash-and-grab robberies that could provide her with the money needed to improve her lot in life. After rounding up a few pals and robbing a few businesses under the cover of the chaos, Yasmina and her friends are pursued by the police and forced to split up. Before they part ways, however, they all agree to regroup at an inn just outside of Luxembourg. The proprietors of the inn are the Von Geisler clan. Led by a tyrannical, jackbooted patriarch, the Von Geisler's are a curious lot who at first appear to be stuck in the past. But the Von Geisler's aren't just eccentric, they are devoted Neo-Nazis with a twisted fantasy of starting a new master race -- and they have chosen Yasmina as their Aryan Eve. Now, in order for Yasmina to escape a grim fate as a fascistic breeding machine, she and her friends must fight for their lives against the brutish Von Geisler boys and their savage sisters in a vicious battle that will transform this once peaceful inn into a blood soaked abattoir.
People Who Like this movie also like
Critic Reviews for Frontier(s)
Audience Reviews for Frontier(s)
OOOOh lots of gore here...
Cynthia S.
Super Reviewer
It might be one of the goriest movies I've ever seen, but unfortunately, it isn't a good one to say the least. It's the oft repeated theme (as in Vacancy, TCM, Hostel, Martyrs, etc.) of a psychotic family that kills a group of teenagers one by one except for one. Won't give away the ending although I don't feel it'd make any difference. The blood keeps flowing from one or more of the characters for most of the part, and it won't be a huge exaggeration to say that the movie literally runs on blood. The characters are hardly established to feel anything for 'em. The worst part was the poor performance by Karina Testa, the one who plays the role of the protagonist Yasmin. Her unrealistic acting is apparent for more than a couple of times. Seems like she doesn't know the difference between shivering and shaking. And the old Nazi, the head of the dysfunctional family seeking pure blood, overacted more than his character required to (overact). I can overlook its illogical scenes and nonsensical bloodshed, but then the movie hardly has anything else to keep it going. Gore and blood are the central characters of this movie. The plot is too thin and depends heavily on violence. On the lighter side, it never got intolerably boring. And if you're a fan of the movies full of action and violence, no matter whether the plot exists or not, you may find this movie very entertaining.
familiar stranger
Super Reviewer
Frontier(s) Quotes
There are no approved quotes yet for this movie.