Frontier(s)
(2007)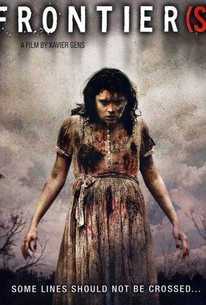 TOMATOMETER
AUDIENCE SCORE
Critic Consensus: Perhaps slapdash with its aspirations toward message-making, this ultra-gory horror flick nonetheless delivers the bloody goods.
Movie Info
The banlieues of Paris are burning, and as a young girl from the slums attempts to elude police by hiding out at a sprawling inn near the Luxembourg border she becomes locked in a vicious battle for survival against a group of Neo-Nazi fanatics intent on using her to start a new Aryan brotherhood. As the votes cast in the latest election are tallied, it quickly becomes apparent that an extreme right-wing party has been elected into power by a wide margin. In the aftermath of the announcement, the streets fill with protestors and riots erupt all throughout the country. Yasmina is a poor girl who has never known a life outside of the ghetto, and she sees the riots as an opportunity to stage a series of smash-and-grab robberies that could provide her with the money needed to improve her lot in life. After rounding up a few pals and robbing a few businesses under the cover of the chaos, Yasmina and her friends are pursued by the police and forced to split up. Before they part ways, however, they all agree to regroup at an inn just outside of Luxembourg. The proprietors of the inn are the Von Geisler clan. Led by a tyrannical, jackbooted patriarch, the Von Geisler's are a curious lot who at first appear to be stuck in the past. But the Von Geisler's aren't just eccentric, they are devoted Neo-Nazis with a twisted fantasy of starting a new master race -- and they have chosen Yasmina as their Aryan Eve. Now, in order for Yasmina to escape a grim fate as a fascistic breeding machine, she and her friends must fight for their lives against the brutish Von Geisler boys and their savage sisters in a vicious battle that will transform this once peaceful inn into a blood soaked abattoir.
People Who Like this movie also like
Critic Reviews for Frontier(s)
Audience Reviews for Frontier(s)
I find it hilariously pathetic that Xavier Gens wants to convince us that this is a "serious" movie that aims at some sort of political message, when in fact it is all a lame excuse for the kind of brainless, derivative gore that we have seen before in thousands of similar films.
Carlos Magalhães
Super Reviewer
OOOOh lots of gore here...
Cynthia S.
Super Reviewer
Frontier(s) Quotes
There are no approved quotes yet for this movie.