Game of Death II
(1981)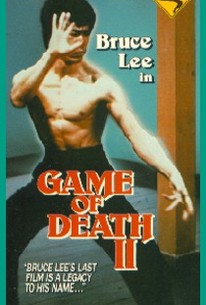 AUDIENCE SCORE
Critic Consensus: No consensus yet.
Movie Info
When a man his murdered while pursuing the killers of his friends, his brother must struggle to avenge both of their deaths.
Critic Reviews for Game of Death II
There are no critic reviews yet for Game of Death II. Keep checking Rotten Tomatoes for updates!
Audience Reviews for Game of Death II
Bruce Lee returns, (so they say) as Billy Lo to investigate the sudden death of his friend and encounters a piece of film that was left with the man's daughter. When the body is stolen during the funeral, Billy is also killed by a dart when he jumps on the helicopter that is making off with the coffin and now it's up to his wayward little brother to avenge both men's deaths. His search leads him to the palace of crazy fighter Roy Horan, who eats raw venison, drinks deer's blood, carries a monkey on his shoulder and owns some killer peacocks and lions. What happens next is like nothing you could ever imagine with krazy kool kung-fu action (directed by the legendary Yuen Wo-Ping), at the final showdown.
Stuart Brooks
Super Reviewer
I'll just say that the film is constructed so poorly that it is outrageously funny. I watched it with friends, and I recommend everyone does the same. If you have even half of a sense of humour, you'll be laughing for literally 80% of the film. Everything about the film is wrong: trying to resurrect Bruce Lee with scraps of footage and a guy that "kinda" looks like him; having a man dress up as a lion and go toe to toe with the lead character; having sets that belong in a star trek episode; having jesus play the bad duy. The best/worst parts are the "twists," which are so inconsequential they needn't have bothered. The makers could not have made a funnier film had they tried. Any film that includes the line: "I may be a kung-fu master, but I need cash!" must be essential viewing
Cassandra Maples
Super Reviewer
Game of Death II Quotes
There are no approved quotes yet for this movie.