Gamera: Chiisaki yusha-tachi (Gamera the Brave)
(2006)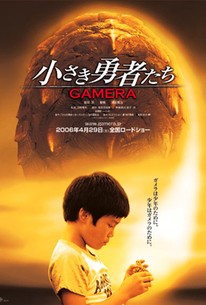 AUDIENCE SCORE
Critic Consensus: No consensus yet.
Gamera: Chiisaki yusha-tachi (Gamera the Brave) Photos
Movie Info
The Gamera saga continues with this installment that finds the hero to children everywhere doing battle with an evil dino-lizard named Zedus. A young boy named Toru (Ryo Tomioka) is walking along the beach when he discovers a most unusual egg. When the egg hatches to reveal an adorable flying turtle, Toru names the creature "Toto" and attempts to hide it from his estranged father, still grief-stricken over the recent loss of his beloved wife. Though all evidence points to "Toto" being a baby Gamera, Toru refuses to believe the truth until the appearance of an enormous creature named Zedus unleashes the rapidly-growing terrapin's latent superpowers. Now, as Zedus carves a swath of destruction all across Tokyo, Toto's true identity is revealed and the two enormous monsters face off in an earth-shaking battle of epic proportions. One of the first kaiju films ever to be penned by a woman (Yukari Tatsui wrote the screenplay), Gamera the Brave is the twelfth entry in the long running Gamera film series. ~ Jason Buchanan, Rovi
Critic Reviews for Gamera: Chiisaki yusha-tachi (Gamera the Brave)
All Critics (3) | Fresh (3) | Rotten (0)
Given that there's virtually no clear reason for it to exist, it's actually pretty decent.
Doesn't satisfy any cravings for Tokyo-flattening mayhem, but its gentle ways are appealing in small doses, turning a saga about a rampaging reptile into a picture kids will undoubtedly love and parents should be able to tolerate.
A pretty decent kids movie...the film is mostly entertaining - a good effort for parents to watch with their children.
Audience Reviews for Gamera: Chiisaki yusha-tachi (Gamera the Brave)
A reboot of the Gamera franchise the returns to the more kid-friendly roots found in the Showa-era Gamera flicks. The grim serious tone of the three previous entries are replaced with a more light-hearted one. The story does a pretty good job combining giant monster flick with a down-to-earth slice-of-life movie. The kid actors are very good and they never come across as bratty or annoying, a problem that plagued some of the Showa-era flicks. Gamera's suit design goes for a more "cute" look that is very far removed from the scary-looking suit from "Revenge of Iris". I don't mind this suit design because I don't think it would have fit the film's tone if Gamera looked scary. Although it is disappointing that they replaced Gamera's trademark roar. I wonder why they did that? Gamera fights a sea monster named Zedus. Zedus is not the most spectacular Gamera villain, but he does make for a tough opponent for him to fight. The fight scenes between the two monsters are well-written and executed. Even though it is a kids movie, this film is not too obnoxious and it does not call attention to the fact that it's kids movie. This film shows respect for both the kid audience and adults. It's a little slow at times, but by the end it becomes spectacle for the eyes. I would not have minded seeing a sequel to this, but it does a pretty good job as a stand-alone effort.
Christopher Heim
Super Reviewer
½
Good FX and the rare occasion where I cared about the human characters as much as the kaiju. I would have prefered the promised sequel to Revenge of Iris but this still was a pleasent (although much more kiddie-friendly) reboot of the Gamera legend.
A.D. Villarreal
Super Reviewer
Gamera: Chiisaki yusha-tachi (Gamera the Brave) Quotes
There are no approved quotes yet for this movie.