Garage Days
(2003)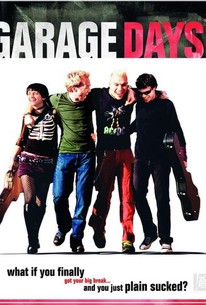 Movie Info
Alex Proyas, director of The Crow and Dark City, switches gears for the lightweight romantic comedy Garage Days. Set in the Sydney suburb of Newtown, Freddy (Kick Gurry) really wants his band to make it big. The band consists of his girlfriend Tanya (Pia Miranda) on bass, the drugged-out Lucy (Chris Sadrinna) on drums, and the mopey Joe (Brett Stiller) on guitar. Their inept manager, Bruno (Russell Dykstra), thinks they can get successful if they hook up with record executive Shad Kern (Marton Csokas). However, the band develops personal problems when Joe's girlfriend Kate (Maya Stange) announces she's pregnant and falls for Freddy, then gothic girl Angie (Yvette Duncan) seduces Joe, and Tanya gets involved with Lucy. Garage Days premiered at the 2003 Sundance Film Festival. ~ Andrea LeVasseur, Rovi
Critic Reviews for Garage Days
Audience Reviews for Garage Days
½
Imagine Trainspotting developed into a network TV show, then sold to HBO at the last minute so they could add swearing. Also the tag line, "what if you finally got your big break, and you just plain sucked?" totally spoils the movie. Imagine the tag line for planet of the apes being "what if you found a planet inhabited by monkeys, and it turned out it was Earth?"
Ken Stachnik
Super Reviewer
Spectacular Aussie comedy on sex, drugs and rock 'n' roll. Pia Miranda's cool in her 'angry management' performance.
Dean McKenna
Super Reviewer
½
[font=Century Gothic][color=darkorange]Alex Proyas is mostly known for being a director of such cool fantasy films as "The Crow" and "Dark City". So, it would seem like "Garage Days" is quite a departure for him because it is a relatively modest film about a wanna-be rock band in Sydney, Australia. But when I thought about it, it didn't seem like that different a movie after all because the characters are having this rock and roll fantasy. Even more telling is that Proyas cannot get away from using digital effects.[/color][/font] [font=Century Gothic][color=#ff8c00]"Garage Days" is almost a good movie. It has a likable, young cast playing the band members but there is too much going on that has little to do with the actually playing of music.(We really don't get to see them playing until the end of the picture or ever know what the name of the band is. The first thing anybody always comes up with is the name of the band.) That's where the movie derails - some of the plot strands work, but one is frankly bizarre and another suffers from every romantic cliche in the book. I liked the ending, even though there is a deus ex machina lurking in there somewhere. [/color][/font]
Discussion Forum
Discuss Garage Days on our Movie forum!