Gate of Flesh
(1964)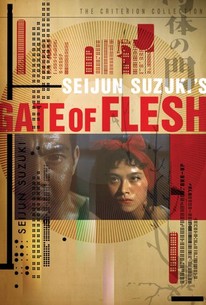 AUDIENCE SCORE
Critic Consensus: No consensus yet.
Movie Info
Gate of Flesh is one of the earliest examples of the sado-masochistic soft-core sex films called pinku eiga that would grow by the 1970s into one of Japan's largest, and domestically most popular, genres. Seijun Suzuki directed this gritty, stridently anti-American account of prostitution, set in the black markets and rubble of Tokyo during the immediate postwar era. The story focuses on Maya (Yumiko Nogawa), who finds refuge with a band of hookers living in a bombed-out building who fight for their turf and adhere to a strict, pitiless code: no sex without payment. Those women who run afoul of this rule endure an appalling punishment, largely at the hands of the sadistic ringleader of the group, Komasa Sen (Satoko Kasai). Tension within the group increases when macho ex-soldier Ibuki (Joe Shishido) hides in the women's basement from the US military police after he stabs an American soldier. Drunk on wood alcohol, Maya finds that she can no longer contain her yearning for the renegade hunk, resulting in trouble for both of them. The film lurches from a social realist portrayal of the hardships of the post-war slums to a lurid dreamscape of sexual desire perverted into brutality, realized by Suzuki's boldly expressionistic use of color, camerawork, and design. The result is a film as thrilling as it is repellant. ~ Jonathan Crow, Rovi
Critic Reviews for Gate of Flesh
Audience Reviews for Gate of Flesh
Awesome and yards ahead of it's time, Gate of Flesh lets all the ugliness of the post war period in Japan come to bare. Desperation leads to violence, sex and personal destruction.
John Ballantine
Super Reviewer
½
Heralded as one of the first in a strain of sadomasochistic films to come from Japan, 'Gate of Flesh' (1964) is renowned director Seijun Suzuki's strange cross-breed of exploitation and art-house. The story follows a group of prostitutes living in a burnt out house in post World War II Tokyo. This merciless group operate on a simple set of rules: no free sex (which is synonymous with love) and anyone who breaks this rule is to be tortured and left for dead, no exceptions. When an ex-corporal called Shintaro Ibuki (Jo Shishido) arrives however the group is sent into disarray as they become more and more enamoured with him. Affected most by this arrival is nineteen-year-old emotionally dead Maya (Yumiko Nogawa), who falls in love with Ibuki and begins to see him as the brother she lost in the war. Gate of Flesh is a film about carnal desires and the inter-changeability of pleasure and pain, the films title itself is used multiple times in the script to represent passing through the realm of sex for money and achieving something you're willing to die for, love. This is not to say however that the film is empowering towards the idea of love, if anything the harpy like group of protagonists see it as a sign weakness, punishing those who give in. It is in this sense that 'Gate of Flesh' makes its most interesting comments about the way in which men use women and the price of living "are we eating to sell our bodies or are we selling our bodies to eat? - and either way, what are we living for?" In a cinematography sense the film is very surrealistic, superimposed faces appear and disappear and at one point the face of a red demon (a representation of Maya's longing for pain) is seen sprouting from the top of Ibuki's head. One of the most notable instances of said surrealism however is when the film briefly cuts away from the back alleys of Tokyo and each of the four prostitutes appear against a background that matches their colour coded dresses, saying a sentence about the way they're feeling, it's as equally bizarre as it is beautiful. The film is clearly anti-American and Suzuki has no hesitation when he comes to showing the negative effects of the occupation of Japan and the subsequent democracy. In many ways Gate of Flesh is about transformation, much like the traditional Geisha-style O-Machi is strung up and destroyed, so to is the old vision of Japan by America. Verdict: Extremely shocking for it's time and equally as challenging, Gate of Flesh is a must see for those interested in Japanese cinema.
Cameron Sherwell
Super Reviewer
½
"are we eating to sell our bodies or are we selling our bodies to eat? - and either way, what are we living for?" this quote from one of the lead characters sums up the film well. an engaging and tragic story of postwar life in japan centers around a cast full of very unlikeable characters. suzuki's use of color in the film is the standout, but the pacing and the gritty nature of the film also shine in this effective if not slightly over the top tale. a very good film that sets the stage for a progression in the stylisitc appraoch of suzuki.
Gate of Flesh Quotes
There are no approved quotes yet for this movie.