Gemini
(2018)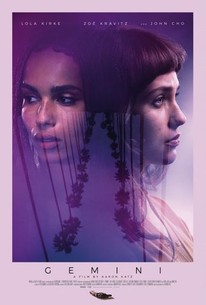 Movie Info
A heinous crime tests the complex relationship between a tenacious personal assistant (Lola Kirke - MISTRESS AMERICA, MOZART IN THE JUNGLE, GONE GIRL) and her Hollywood starlet boss (Zoë Kravitz - MAD MAX: FURY ROAD, DIVERGENT). As the assistant travels across Los Angeles to unravel the mystery, she must stay one step ahead of a determined policeman (John Cho - STAR TREK, HAROLD & KUMAR GO TO WHITE CASTLE) and confront her own understanding of friendship, truth, and celebrity.
Critic Reviews for Gemini
Audience Reviews for Gemini
My very last MIFF screening was something I very much was curious about but never held in high regard especially compared to the various other films I saw. In a way, 'Gemini' is a film that's just 'fine', nothing too special, but well, made, written, acted, directed, edited, casted, etc, etc. Even whilst being a sort of drama set within Hollywood as a murder mystery meets a slight sprinkle of a crime thriller, it doesn't offer much else than what it's offering story-wise. Part of me wanted to like if not admire this film in the high standards it set out to do, but the overall execution which in itself is slow moving in the middle act and in the conclusion feels predictable, but I can't due to those certain flaws alone it paled in comparison to film's I saw it do better. While not overall disappointing, I think it's worth watching for it's passable quality alone. Not enough to attract a huge fan-base though recommendable to be worth it when nothing else it on or could be found on certain streaming services.
Luke Eberhardt
Super Reviewer
Gemini Quotes
There are no approved quotes yet for this movie.