Get Santa
(2014)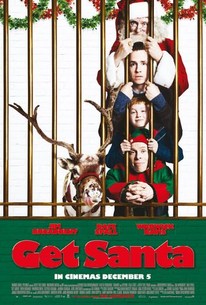 Movie Info
It's days before Christmas and reindeer are found running loose through the streets of London. Meanwhile an astonished 9 year-old Tom (newcomer Kit Connor) discovers Santa (Jim Broadbent) in the garden shed. He has crash-landed while test-driving his new sleigh and enlists Tom and his father Steve (Rafe Spall) to help him get back to Lapland. But what happens when Santa is arrested and thrown into prison? Will Steve and Tom be able to break him out in time for Christmas? Get Santa is a heart-warming and funny family adventure about a father and son reconnecting to discover the magic of Christmas. (C) Warner Bros
News & Interviews for Get Santa
Critic Reviews for Get Santa
Audience Reviews for Get Santa
½
Here's the thing with Christmas movies, I don't mind watching them, but the fact of the matter is that there's not many good ones. I don't mean to suggest that none of them are good, but there aren't as many good Christmas/holiday movies as there are horror movies. Plus, honestly, these types of films are usually only appropriate during the holiday season. Horror films aren't attached to one season, so that's what makes it easier for me to do an October horror-fest, because there are so many options to choose from. I can't do the same with holiday movies, because you've got It's a Wonderful Life, the classic to end all classics, A Christmas Story, one of the many adaptations of A Christmas Carol and that's it. There are a lot of nauseatingly bad and kiddy Christmas movies that I will never see. Like Santa Paws or some such bullshit. But, with that said, this film honestly wasn't bad in the slightest. Don't get me wrong, I think this is a movie that, actually, more adults will enjoy than kids, but there's some weird attempts to appeal to the kids by having some fart jokes in there as that's how the reindeers are able to communicate. That, to me, is as lazy as it can possibly get. Like the lowest common denominator. I'm not saying that farts, when used properly, can't be used to tell a funny joke, I'm just saying that it's used as lazily as humanly possible in order to get the kids to laugh. That's just terrible writing to me. It's not just lazy, it's terrible. The film isn't what I would call good or anything, but, outside of the stupid fart jokes, it's a perfectly acceptable family film. I can imagine it wouldn't be so great if you watched it alone and if it was up to me, like I was watching alone, I wouldn't have watched this at all. That's just me. It works best as a movie you watch with your family. The story is basic and simple. A father, trying to make up for lost time, and his son save Christmas after Santa Claus is arrested for trespassing. It's the simplest story to follow, and it'd almost have to be, but there's something uniquely British about it. If you're used to Blackadder, Monty Python or Edgar Wright, then this won't be your cup of tea. It doesn't have that dry, British wit that I'm such a big fan of, but it still feels uniquely British, so at least that's something. It's got a good cast, so I can't complain there. The film does become a little sentimental, but at least it's never nauseating as some of these tend to be. There's some funny scenes, not laugh out loud, but chuckle-worthy. The best of these is when Santa Claus, with a make-over to make him look mean, comes out to Straight Outta Compton from NWA. It's funny if only because this is a family movie and Straight Outta Compton, probably the best rap song I've ever heard and I'm not a huge rap guy, is full of curse words. So they have a clean version of the song and I just thought that was funny that there's actually a clean version of this song out there. Or at least the first verse with Ice Cube's part. Again, the movie is never hilarious so, honestly, I can't really recall much of anything else that made me laugh, so that might not be a good sign for some people. I don't mind it as much considering what the film was trying to achieve, it's an 'in-the-moment' film if that makes sense. It's the type of film that, after you watch, you move on from it. It's not gonna stick with you. But, for the moment I watched it, this wasn't a half bad movie at all. It's got some enjoyable parts here and a good cast. I just think its adherence to Christmas movie formula tends to be its downfall. You should give this a go if you've got family over and you've got Netflix. It's not the type of film I'd pay to watch.
Jesse Ortega
Super Reviewer
Get Santa Quotes
There are no approved quotes yet for this movie.
Discussion Forum
Discuss Get Santa on our Movie forum!