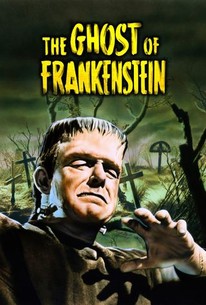 The Ghost of Frankenstein
1942, Horror, 1h 8m
12 Reviews
1,000+ Ratings
Where to watch
Rent/buy
Rent/buy
Rate And Review
The Ghost of Frankenstein Photos
Movie Info
Shepherd Ygor (Bela Lugosi) rescues the monster (Lon Chaney) from a sulfur pit and brings him to Dr. Frankenstein's other son (Cedric Hardwicke).
Audience Reviews for The Ghost of Frankenstein
Still ALIVE! despite missing the stylish H'Wood Golden Age DNA that links it with the classic Karloff years, Ghost takes the franchise from A-Level fright-fest to B-Movie fright-fussed with only occasional bolts of energy to keep audiences invested. Picking up right where the last chapter left off and forsaking continuity for combustibility, Part 4 tries completely turning Dr. Frankenstein's once-sympathetic patchwork man into just a one-note rampaging Boogeyman. Fun but far from scary, this series officially became a Ghost of its former self with this, a hulking almost soul-less Golem that's more entertaining for its nostalgia than scares. In this unrated continuation of the classic horror series, the monster (Lon Chaney, Jr.) and his crazed companion (Bela Lugosi) seek out the other son (Sir Cedric Hardwycke) of Dr. Henry Frankenstein to coerce him into repeating his father's experiment of placing a fresh brain in the head of the monster. In the shadow of Boris Karloff, Lon Chaney, Jr. admittedly had impossible shoes to fill but here, he fits the lunk-headed bill. He's certainly capable of a monstrously good turn. This actor, after all, beautifully conveyed the troubled angst of Larry Talbot and his unleashed feral alter-ego in The Wolf Man. Playing second fiddle to Bela Lugosi's nutjob cripple - and ace horn player - Igor, the character could've easily become a simple screen heavy. His interactions with a friendly girl ground the, ahem, drama, which is saying a lot when the drama involves putting Lugosi's brain in Chaney's head. Just like a haunted house, however, there's still fun to be had if you buckle up for the cheap more than honest-to-goodness thrills. Bottom line: Ghost in a Shell

With Boris Karloff's departure from the franchise, it's left to Bela Lugosi and Lon Chaney Jr. to carry on in The Ghost of Frankenstein. In this chapter the Monster is freed from his sulfur tomb when villagers blowup Castle Frankenstein, allowing Ygor to rescue him and sneak off in search of Dr. Frankenstein's second son, Ludwig Frankenstein. Unfortunately, Lon Chaney Jr.'s depiction of the Monster is rather bland and doesn't convey the emotional expressiveness that Karloff gave. Also, the story is formulaic for the most part; though there are some interesting aspects to it. The Ghost of Frankenstein is an underwhelming sequel that stretches for material, but it still delivers an entertaining adventure.

Despite the short running time (which was commonplace during that time period), 'Ghost of Frankenstein' is a rather ambitious installment in the venerable franchise. Instead of a story about the revitalization of dead tissue, the plot is more sinister and conniving with Igor hoodwinking the estranged son of Dr. Frankenstein to transplant his brain in the monster's brawny body. Lugosi is still gruffly despicable as Igor whose allegiance to the monster finally devolves into a highly manipulative relationship where he rescues the monster from being lynched by a village mob only to preserve his body for his ulterior motives. The sets are impeccably gothic and the pyrotechnic demolition of the mansion at the beginning is an explosive hook. Overall, 'Ghost of Frankenstein' is a sterling example of Universal's carte blanche with Mary Shelley's classic novel.

One of the better universal monster movie sequels. It's got all the good actors, a good story, and it's exciting.
See Details