Girls Lost (Pojkarna)
(2015)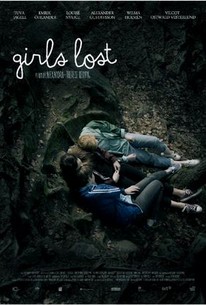 Movie Info
Kim, Bella and Momo, three bullied teenaage girls are going through the throes of finding themselves. Surrounded by a dark world of teenage violence, marginalization and sexual confusion, the girls have only each other. A seismic shift happens when they discover a curious plant in their beloved greenhouse. It turns out to have mysterious magical qualities that, when consumed, transforms the girls temporarily into boys. But not only does their gender change, the world around them, and their response to it, is profoundly altered.
Critic Reviews for Girls Lost (Pojkarna)
Audience Reviews for Girls Lost (Pojkarna)
And the Oscar for Least Subtle Movie of 2015 goes to this one. I hate that I'm starting this review off on a somewhat snarky note, but the fact of the matter is that there's nothing subtle about this narrative. And that, really, may be the point of the story they're trying to tell. But don't let that be indicative of my thoughts on this film, while its lack of subtlety was a detriment, I thought that this was quite a good movie. And a very timely one as well, considering that trans rights is a fairly big issue in today's political landscape. One that a lot of people get wrong, particularly if they're conservatives, by trying to limit access to bathrooms for trans people. They do so under the guise of protecting women and children from sexual assault, even though there's very little evidence to actually back that up. If you do a little research, you WILL find out, however, that trans people are more likely to be sexually assaulted than the other way around. All it takes is a simple Google search. But, in the era we're living in (of alternative facts) anything that doesn't support your erroneous statement is a lie. I digress, I didn't come here to moralize, nor did you come here for that. So onto this review. Like I said earlier, this is a good movie and one that's definitely very modern and timely. It's not without its flaws, of course, like the film's third act is a little too dramatic for my tastes and it doesn't really do justice to the film's characters or the world the film has built up with its storytelling. Simply put, these three girls, who are bullied at school, find this flower that, if you drink from its nectar, turns them into boys shortly thereafter. Once they're boys, they find the acceptance from another group of boys that they never got at school. Fairly simple stuff. But, obviously, one of the girls, Kim, finally feels liberated and like her true self when she turns into a boy. Obviously, the film here is playing with gender identity and, even before they drink the nectar, Kim tells Momo that she feels that there's this zipper on her that she can't pull down to reveal her true self. So even from the start of the film, Kim has identity issues, she feels trapped in her own body. Obviously the narrative plays with that as Kim grows more and more addicted to being a boy and she falls in love with a hoodlum, Tony, who, as the film progresses, starts to show feelings for Kim, as a boy at least. So the movie plays with gender and sexual identity from a couple of different angles. Obviously Kim struggles with her own sexual identity as she doesn't seem to be fully aware, at least yet, of who she's attracted to. Tony, the guy she meets, or Momo, one of her best friends, but only as a boy. It's an interesting coming-of-age story. The story is told through the lens of magic realism. The characters are believable and relatable, but the means they tell the story evoke a surreal atmosphere. The film is well-written, for the most part, and the acting is excellent all-around. All of the girls do a great job, even if the movie focuses mostly of Kim's character. Tuva Jagell, who plays Kim as a girl at least, does a great job here. I've never seen her before, but she's really damn good. Emrik Ohlander, who plays Kim as a boy, also does a great job, but Tuva really is the highlight of the film. Which is why I wish the film had a more satisfying conclusion instead of one that's so heavy-handed and weepy. Like I mentioned earlier, it doesn't really do justice to the characters the film has so carefully developed through its narrative. I don't mean to suggest that it falls apart in the third act, but let's just say that it's not an appropriate ending for this movie. I really do think that holds the movie back for me. Because, other than that, this movie is quite good. I wouldn't say it was very good, but it was good. I felt that it was missing something for it to reach a higher level. I don't know what that something was, but there was something lacking here. But I can't complain much, regardless, this is still a good movie. It has its flaws, but it's still an enjoyable movie with good character development and some excellent acting.
Jesse Ortega
Super Reviewer
Girls Lost (Pojkarna) Quotes
There are no approved quotes yet for this movie.