Go Fish
(1995)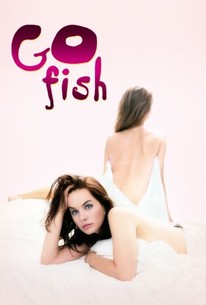 Movie Info
This hit arthouse ensemble piece traces the romantic and political ups and downs of a group of multicultural Chicago lesbians. The central story involves an unlikely romance between Max (Guinevere Turner), a hip young babe, and Ely (V.S. Brodie), a slightly older woman involved in a long-term, long-distance relationship that's basically a smokescreen for her fear of romantic risk. When the pair are introduced by Max's roommate, teacher/activist Kia (T. Wendy McMillan), Max isn't interested in Ely, whose long hair, hippie accoutrements, and fondness for decaffeinated herbal tea don't impress the younger, more fashion-conscious woman. Soon, though, fate, friends, and Ely's butch new hairstyle conspire to push the women closer together. As this new romance inches along, the pair's friends have problems of their own: Kia must help her closeted girlfriend, Evy (Migdalia Melendez), come to grips with the disapproval of her conservative Latina mother, while their pal Daria (Anastasia Sharp) incurs the disapproval of the lesbian community for her decision to sleep with a man. Filmed in black and white on-location in Chicago, Go Fish features a number of non-standard narrative devices, most notably the Greek chorus, or "jury," of lesbians who comment on not only the plot, but also the political and social ramifications thereof. Shown in competition at Sundance in 1994, Go Fish went on to earn critical and commercial success and establish the careers of director Rose Troche and actress Turner, who together co-wrote and co-produced the picture. Turner would appear in several additional indies and co-write the script for American Psycho, while Troche would go on to helm 1998's Bedrooms & Hallways.
Critic Reviews for Go Fish
Audience Reviews for Go Fish
Rose Troche does a great job in directing this film. First of all, we see women though a woman's eye. It's unusual, and it focuses on completely different things, than what men usually pay attention to. Here we have an obsession with faces, eyes and hands- not boobs. Very refreshing from that point of view! Also the black & white photography maximizes the effort to capture all those sexually ambiguous women. The fact that I am only watching this film 15 years after it was made, is a shame. I wish I knew it was out there when I was first questioning myself and my identity. It would have been a tremendous step towards realizing that even freaks of nature (according to the western society's standards) deserve to be happy and can be loved. Love can be found in the weirdest of places. Ely maybe "U.G.L.Y." but she can make Max happy. Max has to give up on the idea of the ideal girlfriend, and explore more tangible options. I loved it, even though it's totally NOT "L word" and girls are not necessarily attractive and worn out in the gym.
Anastasia Bartzoulianou
Super Reviewer
Go Fish Quotes
There are no approved quotes yet for this movie.