Yuke yuke nidome no shojo (Go, Go Second Time Virgin)
(2008)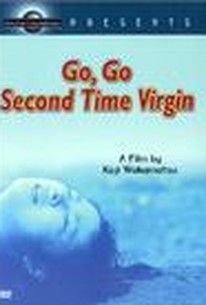 AUDIENCE SCORE
Critic Consensus: No consensus yet.
Yuke yuke nidome no shojo (Go, Go Second Time Virgin) Photos
Movie Info
Prolific Japanese filmmaker Koji Wakamatsu's Go, Go Second Time Virgin tells the tale of two Japanese teens brought together by sexual violence, revenge, and rebellion. A girl (Mimi Kozakura) is forcibly carried to a rooftop and gang-raped, as a boy of similar age (Michio Akiyama) stands to the side watching the events unfold. The boy remains on the roof until the next morning, waiting for the girl to wake. When she does finally rise, the two teens begin sharing intimate details about their lives, including the fact that the boy has recently killed four people that forced him to take part in an orgy. As the two kindred spirits sink lower and lower into depression and delusion, they exact revenge for the crimes against the girl and take a bold, tragic step to end their misery once and for all. ~ Ryan Shriver, Rovi
Critic Reviews for Yuke yuke nidome no shojo (Go, Go Second Time Virgin)
All Critics (2) | Fresh (1) | Rotten (1)
... the film's eerie tone and fractured approach to characterisation... provide the story with an intangibly lingering power and a seductive sense of mystery that sticks with you much longer than for the film's barely hour-long running time.
Audience Reviews for Yuke yuke nidome no shojo (Go, Go Second Time Virgin)
½
The title alone is enough to stoke anyone's curiosity. This Japanese New Wave gem doesn't quite live up to its billing, but it's smart enough to know its thin premise doesn't warrant more than 65 minutes. The script makes its statement and gets out quickly. The story takes place almost entirely on a city rooftop. A girl is gang-raped while a mousy, enigmatic boy watches from the side. Afterwards, the two creep into a dysfunctional romance based on shared traumatic memories. But the boy holds the keys to the building, and so the whole crowd of scoundrels is also stranded on the roof for the night. The tense situation is detailed almost in real time, eventually turning violent in unexpected ways. The closing suggests the film is a tribute to the recently murdered Sharon Tate, so consider yourself warned. "Go, Go Second Time Virgin" is dominantly black and white, but inserts a few flashbacks in color. The musical score is unusually Western-influenced and even includes an unlikely usage of the Mothers of Invention's "The Return of the Son of Monster Magnet" (wow). If you're a fan of foreign directors such as Nagisa Oshima and Jean-Luc Godard and would like to dig deeper, this is a good place to start.
Eric Broome
Super Reviewer
Yuke yuke nidome no shojo (Go, Go Second Time Virgin) Quotes
There are no approved quotes yet for this movie.