The Gods Must Be Crazy II
(1990)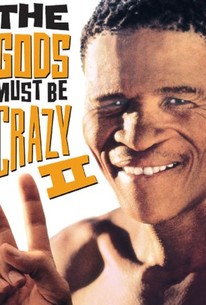 The Gods Must Be Crazy II Photos
Movie Info
This sequel to the enormous international hit The Gods Must Be Crazy isn't quite as fresh and enchanting as the original, but it is still a garden of small delights. N!Xau, the Kalihari bushman who starred in the first film, is separated from his children while on a hunting expedition in the desert. The emphasis is on the kids, who are kidnaped by elephant poachers. This activity is counterpointed with the adventures of the film's "civilized" characters, transplanted New York attorney Lena Farugia and zoologist Hans Strydom, who find themselves stranded in the desert (their adventures are similar to those experienced by fish-out-of-water Linda Kozlowski in Crocodile Dundee). Meanwhile, a couple of soldiers who've wandered away from a border war devote their time to capturing, and escaping from, each other. As in the first film, the various subplots converge, with N!Xau once more emerging as the hero of the hour.
Critic Reviews for The Gods Must Be Crazy II
Audience Reviews for The Gods Must Be Crazy II
This was one of the funniest family films I have ever seen. I was young when I saw it, but I still love it. my whole family loves it and after renting it 4 times we finally bought it. there is very little colourful language and although its not as original as the first one, it is just as funny (if not more so). you've gotta check it out. Perhaps its a little on the cheesy side, but it's so original...and teaches you a lesson: are we really so much advanced than these people? Ignorance is bliss...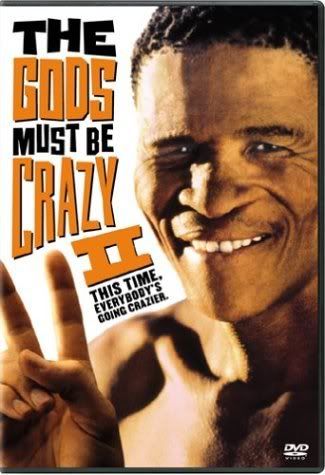 Cassandra Maples
Super Reviewer
½
Ha Ha. Similar plot to the first, except worse. A goofy foreign film with sped-up action and contrasting dry narration, which makes some laugh. Not me.
Lafe Fredbjornson
Super Reviewer
I didn't even know that there was a sequel (poking around on IMDB showed me that there were in fact 5 The Gods Must Be Crazy movies but the last three were made in Hong Kong and were never released in the United States and were pretty horrible). It was even a little better than the first one. Thanks to this movie, I know not to mess with badgers.
The Gods Must Be Crazy II Quotes
There are no approved quotes yet for this movie.