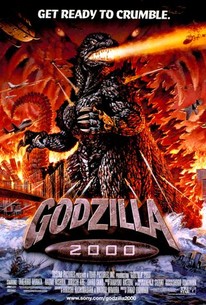 Godzilla 2000
2000, Sci-fi, 1h 37m
69 Reviews
10,000+ Ratings
What to know
critics consensus
Godzilla 2000 is cheesy, laughable, and good entertaining fun. Read critic reviews
Where to watch
Rent/buy
Rent/buy
Rent/buy
Rate And Review
Movie Info
It has razor sharp teeth in a gargantuan mouth; claws that can cut through steel; a roar that echoes back through the centuries; dorsal fins that resemble crimson lightning bolts; and fiery breath that incinerates everything it comes into contact with. Soon, all in the creature's wake is utterly destroyed, and a terrified Japan can only wonder where this monstrous beast will next appear. Godzilla, king of the monsters, is back.
News & Interviews for Godzilla 2000
Audience Reviews for Godzilla 2000
After the crap fest that was Roland Emmerich's remake of a classic icon, this is a return to form that not brings back the real Godzilla, but fixes the lacking elements of Godzilla vs. Space Godzilla. I thought that this one was the best Godzilla in years and definitely had a great plot, that was truly wonderful, awesome, entertaining from start to finish and above all memorable. Takao Okawara directs this stunning work of monster mayhem and adapts it to current times and maintaining what fans want out of a Godzilla film. This is a must see for fans and is entertaining from start to finish. The cast do a fine job as well and the plot is well constructed and certainly is engaging throughout. I would go as far to say that this is my favorite in the series since the original film. This is a fine monster film that definitely is a standout picture in the series and it is fun from start to finish and it is a well structured picture that is destined to certainly be a favorite amongst fans. The action is always thrilling and it elevates the franchise were the last entry left off. A good movie that is a must see for monster film fans and I would say that along with the original is a good starting point for newer fans. Despite its slight flaws, this is among the strongest films and one of the finest examples of monster films ever committed to film.

this is the enjoyable film in the millimium series. its great to see godzilla terrorizing tokyo and saved us from the 1998 disaster they dare call 'godzilla'. as the plot goes, its an average, yet quite enjoyable plot on a group of asians forcasting when will godzilla arrive. i presume it ignored the rest of the series. its a nice kickback to a whole new series and its wonderful to have a godzilla film in a theater in the year 2000. another great thing about this film is the villian named orga. orga tends to be the second to last villian in the godzilla series that was original and was really great to see. the final fight was the main highlight of the film and i enjoyed a minute out of it. this is however the first film of the series to use CGI, and i have to say it looks awful, but their learning how to use it and it was really cheesy fun to see these bad effects but still realize their still trying. overall, its a great fun monster flick and is one of my favorites of the millemium series. A

A third re-launch of the Godzilla franchise. A lot more campy than the previous reboot, Godzilla 2000 suffers from the same "human element" that most Godzilla movie suffer. To break it down, the scenes with JUST Godzilla are fun. Every single scene with humans in it, aka "the story," just becomes a space rock of cheese threatening to destroy all life in the film.

Everything the American adaptation should have been. It updates Godzilla for the modern age while still remaining faithful to what makes these movies so enjoyable. The visual style is still the same affair with Godzilla being a guy in a rubber suit and model cities being blown up. The Godzilla suit looks really good in this film. The film incorporates some use of modern day CGI which looks pretty bad. There is this one scene that shows a computer-generated Godzilla swimming under water and it looks like a video game cutscene. The plot is nothing special but it is enough to keep the viewers attention. Surprisingly, Godzilla gets to fight another monster in this film. This is surprising because usually Godzilla flies solo in reboots. The monster rumble is a great fight with one of the greatest Godzilla finishing moves of the franchise. The English dubbing is laughably bad but it almost adds to the film's cheesy fun factor. This Godzilla movie is delightfully cheesy fun with enjoyable action. Overall, Godzilla 2000 provided a breath of fresh air to fans that were disappointed by the Roland Emmerich film and kick-started the Millennium Godzilla series.
See Details