Godzilla vs. Megaguirus
(2000)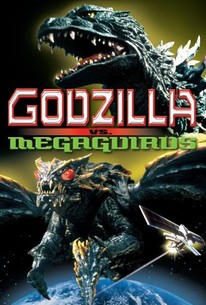 AUDIENCE SCORE
Critic Consensus: No consensus yet.
Movie Info
As the Japanese government tries to perfect new sources of energy, they discover that their longtime nemesis Godzilla is once again on the rampage, and new technology is needed to keep him at bay. Scientists respond with a gadget called the Dimension Tide, a device which can create a black hole whenever and wherever needed. However, while this device was intended to help ward off Godzilla, it ends up having an unfortunate side effect: A test of the Dimension Tide introduced to the Earth's ecosystem a strain of gigantic insects, who live in the sewers and emerge to wreck havoc. Can Godzilla help defeat the bizarre creatures brought to this planet through an attempt to finally destroy him? ~ Mark Deming, Rovi
Critic Reviews for Godzilla vs. Megaguirus
There are no critic reviews yet for Godzilla vs. Megaguirus. Keep checking Rotten Tomatoes for updates!
Audience Reviews for Godzilla vs. Megaguirus
Keeping up with the effective Godzilla formula, this yet an amusing monster film that delivers effective thrills and is well directed and has a good script to boot. Fans will most likely appreciate this one and is packed with a bit of everything that has made the franchise really good. Of course the film is not without its flaws. And it mostly gives us good entertainment that is well structured and directed effectively directed by Massaki Tezuka. This doesn't cover new ground, but does include a few new elements. This is a very good movie for genre fans and Godzilla fans will surely enjoy it for what it is. The film lacks at times, but you can quickly forget its weak aspects due to its well thought out plot. That most certainly delivers from start to finish. Like others, I really enjoyed the film and I feel that since they rebooted the franchise, that it was rare that the films lacked, in fact there was only one film that I didn't enjoy. I surprised that they were able to keep the series going and fine new ideas to make them entertaining. Usually franchises would start to lack by this point, but that is not the case with Godzilla. The carnage that he creates on-screen is what it's all about and he is always worth seeing despite the sometime recycled ideas. The film is good and worth watching if you're bored. This could have improved, but like I said, it still is mindless fun that will entertain you from start to finish if you're a fan of the series.
An utterly campy film with a dark concept that clashes so much with itself that this film fails on every front to find it's own identity. A complete mess story wise, with bad special effects, this new Godzilla film just has no punch at all.
Bryan Davis
Super Reviewer
Working on miniature black holes is the newest weapon to tackle the Godzilla problem. The film follows the antics of G Grasper. Realizing Godzilla is attracted to nuclear and plasma power, all such power is now absent from Japan, but as he returns, a small egg comes through one of the test black holes. It soon hatches into a big assed flying mosquito. This has parallel universes, spaceships, alien bugs, human drama, and lots of destruction. There's even more obvious CGI for the swimming scenes, but it's nice to see the tradition of Godzilla is celebrated rather than parodied. A satisfactory entry.
Luke Baldock
Super Reviewer
Godzilla vs. Megaguirus Quotes
There are no approved quotes yet for this movie.