Goodbye Solo
(2009)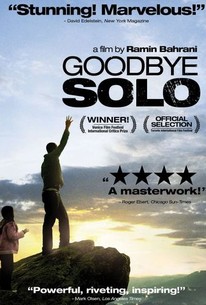 TOMATOMETER
AUDIENCE SCORE
Critic Consensus: An original and thoughtful human drama, Goodbye Solo looks at relationships and loneliness while proving director Ramin Bahrani's is an important American voice.
Movie Info
Goodbye Solo is the story of Solo, a kindhearted 34-year-old Senegalese taxi driver in North Carolina. He is hired by William, a tough 70-year-old white southerner, to drive him in two weeks time to a mountaintop from which William plans to jump to his death. Solo decides to charm his way into becoming William's friend, and this odd couple's unexpected friendship grows. Now all Solo has to do is change the old man's mind before the two weeks are up.
People Who Like this movie also like
News & Interviews for Goodbye Solo
Critic Reviews for Goodbye Solo
Audience Reviews for Goodbye Solo
Nothing short of Excellent. About a man who is about to end his life, and Solo played by Souléymane Sy Savané does everything he can't to prevent it from happing. Not one you will see on any film list but a top ten in my book. 5 Stars. Filmed in and around Blowing Rock North Carolina.
Bruce Bruce
Super Reviewer
½
It deserved more attention.This small,independent movie easily touches our heart.
Reza Mohseni
Super Reviewer
As much as this title could've worked for the events at the end of Empire Strikes Back, a sequence of events forever frozen in movie carbonite of awesomeness, it somehow works better here. Goodbye Solo is a terrific movie of simple yet profound emotional power, under the load-bearing pillars of its 2 main characters: William (Red West) and Solo (Souléymane Sy Savané). The movie opens by dropping the viewer off into a conversation that builds the skeleton for the rest of the film (a process that adds its heart and soul): Solo, a Senegalese cab driver in Winston-Salem, North Carolina, is taking William, a grizzled old man with a calloused face, to a movie theater, innocently enough. William makes Solo an offer: in 10 days' time, drive him to Blowing Rock National Park for a cool grand - far more than the fare for a few hours' drive is worth. No return trip is mentioned. Solo, ever inquisitive, jokingly stumbles into the truth as he deluges William with questions. This forges Solo's mindset into one of curiosity translated through relentless good cheer, and yet the cantankerous William, brusquely protecting himself from too many questions with an f-bomb minefield, remains unfazed. Or does he? As the film proceeds, we find Solo jockeying himself at dispatch to become William's exclusive cab driver, and whether William is just too tired or just doesn't care, his passiveness allows Solo to ferret his way into William's days. Very naturally presented is Solo being married to Quiera (whom is pregnant with Solo's first child), is a stepfather to bright young Alex, and is interviewing to become a flight attendant. Solo unflinchingly shares all of this with William, perhaps as a tactic to provoke William to share, but if so it fails, as the viewer knows only as much as Solo does about William's life - which is to say, not much. Solo, along with the audience, continues to observe William, sometimes going out of his way to do so, trying to find out why this old man wants to go on a one-way mission to Blowing Rock to... well, it remains unsaid, but everybody knows it. Solo wants to help. It is in his nature. But, William snipes every advance to be helped; he is as resolved as his face is etched with years. Roger Ebert has a great line in describing these protagonists: "William's face was made to look pissed off; Solo's face was made to smile." So right. And it goes a long way to visually depict the difference between these two characters, and how they act. Speaking of which, nothing felt like acting in this movie - nobody is recognizable. Equally authentic is the movie's "soundtrack," which consists of what's on the radio in Solo's cab and the random noises of the night (and day) of Winston-Salem. This emphasizes the movie's almost minimalist intimacy all the more - kind of a documentarian's view of Winston-Salem, and of these two souls, very simply, being who they are with each other. An undercurrent of sorrow murmurs with each passing scene, despite Solo's infectious upbeatness. Slowly, we begin to see the depth of emotion glistening in the eyes of both William and Solo as the 10th day nears, as a few grains of truth about William's movie theater missions are revealed, and as Solo's life undergoes new changes. There is no cavalcade of dramatic events; just their lives having grown because of each other, very honestly and powerfully punctuated when Solo discovers William's small journal of observations over the past several days they spent together. It is in these final few scenes of Goodbye Solo that it takes an elegiac tone, as so much seems to have been set in place that fates simply could not be averted. You just have to accept it, even if there was an infinitesimal reason for avoiding it that may have germinated over the days spent. What is unmistakable, however, is that Solo and William were all the more enriched for each other throughout this film. And I all the more enriched for having witnessed it.
Neum Daddy
Super Reviewer
Goodbye Solo Quotes
| | |
| --- | --- |
| Solo: | You're not gonna jump, are you ? |
| | |
| --- | --- |
| Solo: | You're not gonna jump , Are you ? |
| Solo: | You're not gonna jump, are you? |