Grave Encounters
(2011)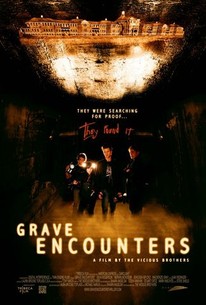 Movie Info
Lance Preston and the crew of "Grave Encounters", a ghost-hunting reality television show, are shooting an episode inside the abandoned Collingwood Psychiatric Hospital, where unexplained phenomena has been reported for years. All in the name of good television, they voluntarily lock themselves inside the building for the night and begin a paranormal investigation, capturing everything on camera. They quickly realize that the building is more than just haunted - it is alive - and it has no intention of ever letting them leave. They find themselves lost in a labyrinth maze of endless hallways and corridors, terrorized by the ghosts of the former patients. -- (C) Official Site
Critic Reviews for Grave Encounters
Audience Reviews for Grave Encounters
The movie's desperate attempt to look amateurish is risible and the actors are mostly terrible, but the good thing is that it manages to create a disturbing atmosphere and even finds a good justification for the characters to carry around their cameras in the most terrifying moments.
Carlos Magalhães
Super Reviewer
½
[img]http://images.rottentomatoes.com/images/user/icons/icon14.gif[/img] Grave Encounters is one of the better entries into the found footage horror genre. Though The Blair Witch Project holds as the high watermark this has some pretty suspense filled moments of teeth gritting tension. It starts off pretty lame but quickly picks up as it goes along introducing some good twists to the plot. Of course, you kind of know where the whole affair is going but I forgot all of it's noticeable flaws simply because for what it is, it succesfully exceeded my at best minimal expectations. The downside however is that I never grew attatched to the cast in the same way as I did watching The Blair Witch Project. Not for a single second did I believe that the events depicted in the film were in any way based on true events. It makes a respectable attempt at convincing us in about the first 2 minutes but personally I knew from the opening credits that this is nothing more than a slamming door horror flick. But there is definitely nothing wrong with that, The Vicious Brothers directed it with style, they kept it reasonably creepy and fleshed out the eeriness of the environent horror set pieces brilliantly. The performances were surprisingly convincing, a well known rarity of the horror genre. But much like the Eli Roth produced 'The Last Exorcism' it falls apart in the end out of sheer preposterousness but crucially, when you stick Grave Encounters next to The Devil Inside you realise how truly awful pseudo documentary horror can really get. I look forward to seeing more from The Vicious Brothers in the future. I hope they direct something less generic in their future career, but if we have to put up with bombardments of found footage movies I want them to be done like this.
Directors Cat
Super Reviewer
½
Grave Encounters is a found footage horror film that relies heavily on previous films and their ideas. What it does do is execute those ideas in a fantastic way, making a solid horror throughout. Grave Encounters is the name of a reality show that investigates the paranormal. This is the supposed 6th episode that was never aired. The team enter an old mental asylum and gradually things start to get weird. It all starts with a tongue in cheek approach that makes fun of actual shows like this. When the host doesn't get what he wants, he pays a gardener to make up a story, the medium is an actor, and nobody really believes what is going on. This all equals some genuinely funny moments that put us at ease. The film then gradually builds up exactly how a horror should. First we are introduced to items and stories that we know will come back later. Then we are privy to some ghostly encounters that the characters are not yet aware of. The characters then begin to hear noises, one goes missing, the events become violent etc. This is exactly how to build up a horror as sometimes the destination isn't important, but the journey. This is the foreplay of the horror genre. Without it we just aren't ready for the big finale. The effects are very impressive and creepy and the film isn't scared to show what's happening, although it does get annoying how the film freezes for a second after every big shock. The performances are great, although the lead sometimes slips between his fake persona as a cheesy host and the scared prisoner of the hospital, but by the end he is no longer laughing. The film also does well to make you expect scares and not deliver, and deliver them when you're not expecting them. Overall a very nice entry into the genre, and one that takes the best of previous efforts.
Luke Baldock
Super Reviewer
Grave Encounters Quotes
| | |
| --- | --- |
| Lance Preston: | Its Kinda like a game, How long can you go? |
| | |
| --- | --- |
| Lance Preston: | This place is about as haunted as a sock drawer. |
| | |
| --- | --- |
| T.C. Gibson: | Apology accepted. Apology accepted. |
| | |
| --- | --- |
| T.C. Gibson: | It means we're **cked |
| T.C. Gibson: | It means we're F**ked. |
Discussion Forum
Discuss Grave Encounters on our Movie forum!