The Great Flamarion
(1945)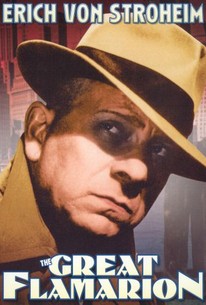 AUDIENCE SCORE
Critic Consensus: No consensus yet.
The Great Flamarion Photos
Movie Info
Erich von Stroheim commands the screen as a vaudeville sharpshooter who hates women but falls in love with his beautiful assistant--who manipulates his affections so she can get him to murder her husband.
Critic Reviews for The Great Flamarion
All Critics (3) | Fresh (3) | Rotten (0)
[T]he film stands out for its pessimistic view of sex and its willingness to admit that our impulses sometimes ask us to act against our better judgments.

Fun to watch as Von Stroheim goes through the drill of being the wronged man who seeks revenge for being trifled with.

Ozus' World Movie Reviews
Audience Reviews for The Great Flamarion
This is from the Mill Creek Mystery Classics 100 Movie Pack. This is a decent little movie with a really nasty woman. She is really quite beautiful, and in the Blue Angel tradition, makes a man twice her age and not all that attractive, fall for her. There's no fool like an old fool and you don't mess with Von Stroheim. I wasn't aware that the great actor/director made some pretty weak films over the years. This one survives pretty well. Von Stroheim plays Flamarion, a trick shot artist, who is in great demand. He gets into the business of an alcoholic and his cheating wife. She uses him, changes him, and then he wants revenge. The story is told by Flamarion as another vaudeville performer holds him in his arms as he dies. It is told in flashback. I have to admit knowing that things had no possibility of working out, yet because of the interesting nature of the characters, particularly the young woman (who is beautiful, even by modern standards). Those of us who have had those yearnings to be young again and have a second chance can easily sympathize as this man makes mistake after mistake; loving too much; trusting too much. I was fairly impressed by the movie, 3 Stars, 6-17-13
Bruce Bruce
Super Reviewer
½
Erich von Stroheim is always worth a look. Low budget, but good story, fine acting. Short, to the point and interesting throughout.
James Higgins
½
Reclusive marksman and vaudeville entertainer (von Stroheim) comes out of his shell when he believes the beautiful assistant in his act (Hughes) loves him and wants to be with him instead of her husband (Duryea). However, the coldhearted, manipulative woman simply wants the Great Flamarion to "accidentally" shoot her husband during the act, so she can run off with yet another man. Flamarion is not a man who forgives and forgets, however.... "The Great Flamarion" is an utterly predictable film, and it must have been so even in 1945. The story never misses a chance to go exactly where you'd expect it to go, and the characters never move beyond complete and total cliches. However, there is still a degree of enjoyment to be derived from this film if you just sit back and go with it. Hughes' performance as the black widow who should make black widows feel uneasy is so over-the-top that it fits perfectly with the nature of the script, while Von Stroheim takes an interesting term as a man who moves from an obsession with lethal guns to a lethal obsession with the woman who took his self-respect and his honor. If taken as a pure melodrama, it's a passable flick. The Great Flamarion Starring: Erich von Stroheim, Mary Beth Hughes, Dan Duryea, and Stephen Barclay Director; Anthony Mann
Steve Miller
The Great Flamarion Quotes
There are no approved quotes yet for this movie.
Discussion Forum
Discuss The Great Flamarion on our Movie forum!