The Great Water
(2005)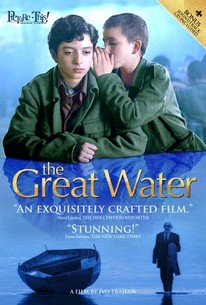 Movie Info
A man near the end of his life relives a crucial period from his youth in this powerful drama. Lem Nikodinoski (Meto Jovanovski) is a prominent Macedonian politician who has suffered a severe heart attack. As Lem drifts between life and death, his mind wanders to his childhood, and he observes his younger self (played by Saso Kekenovski) during his days in a camp for children whose parents were unwilling to embrace Russia's Stalinist regime following World War II. Ariton (Mitko Apostolovski), the camp's headmaster, is a strong taskmaster, but he displays a genuine compassion for his charges; Olivera (Verica Nedeska), his second in command, takes a more stern approach, and is willing to dole out physical punishment to any child who does not absorb her Stalinist teachings. One day, a new boy enters the camp, Isak (Maja Stankovska), who displays a calm but resilient nature that's different from the fearful attitudes of the other children. After initial resistance, Lem becomes close friends with Isak, and their friendship helps Lem confront the horrors of camp life in a new way. Writer and director Ivo Trajkov cast teenage actress Maja Stankovska to play Isak after a long series of unsuccessful auditions failed to find a young man who had the right look for the role.
Rating:
NR
Genre:
,
Directed By:
Written By:
In Theaters:
On DVD:
Runtime:
Studio:
Critic Reviews for The Great Water
Audience Reviews for The Great Water
Macedonian blockbuster is more successful as a technical accomplishment than as an engaging narrative.
Lee Mayo
½
The Great Water (2005) - "Friendship must be earned. I didn't understand what that meant then, but I remembered those words for the rest of my life." - Lem Nikodinoski Based on Zhivko Chingo's novel and set in 1945, "The Great Water" is the harrowing story of twelve year old Lem, whose parents were "removed" for their opposition to Tito-Stalin. The story takes place in an camp designed to recondition the kids for their eventual absorption into the collective. An unflinching recollection of the madness that was Stalin, of the human vermin that rose in its (his) shadow, their victims, and the terrible courage of the youngsters who resisted, "Great Water" is a punishing film. The story is much more than a confession, or a stark reminder of a page in the history of a land that has had it's share of violence. There was a greater evil in Europe in the years leading up to 1945 and strange bedfellows combined to crush him. In the wake of Germany's destruction, Tito rose to join Stalin and Democracy stood across the borders and glared at him until Tito's death in 1980. The land that was Yugoslavia began to unravel shortly afterward, accelerating in the 1990s, eventually leading to brutal ethnic violence and the ultimate intervention by NATO in early 2000. A beautiful people, their capacity for violence has always mystified me. Perhaps now I have a greater appreciation of the passions, and a greater kinship.
Rich Brown
The Great Water Quotes
There are no approved quotes yet for this movie.
Discussion Forum
Discuss The Great Water on our Movie forum!