Greystoke: The Legend of Tarzan, Lord of the Apes
(1984)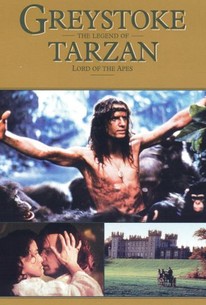 Greystoke: The Legend of Tarzan, Lord of the Apes Photos
Movie Info
Greystoke: The Legend of Tarzan, Lord of the Apes is a reverent retelling of the Edgar Rice Burroughs original, with a 1980s-sensibilities slant. Shipwrecked on the coast of Africa, Lord Jack Clayton (Paul Geoffrey) and his pregnant wife Lady Alice (Cheryl Campbell) attempt to survive in the hostile environment, but both die shortly after the birth of their son John. Abandoned in the wilderness, the orphaned John is adopted by a family of rather highly evolved apes, and raised as one of their own. Years later, John-now known as Tarzan, and now played by Christopher Lambert-comes across a party of white hunters. Rescuing one of the intruders, Belgian Captain Phillipe D'Arnot (Ian Holm) from a horrible death , Tarzan is taught to speak English by the grateful D'Arnot. Coming across the remains and possessions of Tarzan's parents, D'Arnot discovers that the Lord of the Jungle is actually the Earl of Greystoke. Brought back to England, Tarzan is introduced to society, where his crude, apelike manners offend everyone--except the likeable (and painfully senile) 6th Lord of Greystoke (Ralph Richardson, in his final film role) and Greystoke's American ward, Jane Porter (Andie McDowell, whose Southern-fried voice is dubbed by Glenn Close). Disturbed at the notion of Tarzan's inheriting Greystoke manner, his more greedy relatives begin plotting against him. But it is Tarzan himself who decides that he cannot adapt himself to England-especially after a painful reunion with his ape foster father, imprisoned in a science-lab cage.
Critic Reviews for Greystoke: The Legend of Tarzan, Lord of the Apes
Audience Reviews for Greystoke: The Legend of Tarzan, Lord of the Apes
½
We all know the background to Tarzan. I liked the visual aspects of the movie (great apes), but didn't like the Scottish noble life as much.
½
Quite an entertaining live action Tarzan film. One more for the kids though.
A great film with equally great scenery. Greystoke has become awefully forgotten, despite the fact that it's miles better than director Hugh Hudson's very overpraised( and multi-oscar winning) Chariots of Fire.
Greystoke: The Legend of Tarzan, Lord of the Apes Quotes
There are no approved quotes yet for this movie.