Grimm
(2003)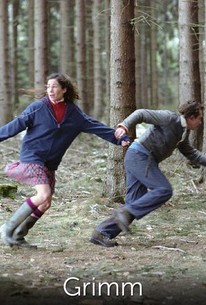 AUDIENCE SCORE
Critic Consensus: No consensus yet.
Movie Info
Written and directed by Alex van Warmerdam, Grimm is an absurdist, decidedly black take on the Hansel and Gretel story. Set in modern day Holland, Grimm centers around siblings Marie (Halina Reijn) and Jacob (Jacob Derwig), who were sent to the forest under the pretext of gathering firewood while, unbeknownst to them, their impoverished family left for parts unknown. Before long, Marie and Jacob learn of their abandonment; all that is left from their parents is a brief note advising them to go to Spain and take up residence with their uncle. The first setback comes in the form of a smarmy farmer (Frank Lammers) who forces Jacob to have sex with his obese wife (Annet Malherbe). Shortly afterwards, Marie turns to prostitution, but Jacob intervenes before she goes too far. Eventually, the siblings find a moped and take off for Spain -- only to find out that their uncle has died. When a wealthy surgeon (Carmelo Gomez) falls for Marie, the broke siblings' prospects seem to be looking up once gain. Unfortunately for them, the ultimate consequence of Marie's quickie marriage is nothing either of them would have imagined.
Critic Reviews for Grimm
All Critics (4) | Fresh (0) | Rotten (4) | DVD (1)
Doesn't toy with the concept nearly enough for my tastes, content to be a vaguely quirky dark comedy.
April 10, 2004 | Rating: C+
Definitely for the more adventurous viewer.
November 5, 2003
A reread of the Grimm tales may make this more of a film buff's outing, but frankly one shouldn't have to work so hard to make sense of these meanderings.
Audience Reviews for Grimm
A bizarre film, bearing only a slight resemblance to the Hansel and Gretel tale, with plot holes big enough to drive a truck through, but entertaining, nonetheless. An adult brother and sister are left in the woods by their father, with a note from their mother instructing them to make their way to their uncle's house, in Spain. The rest of the film recounts their adventures. I liked it well enough to seek some other films by the same director, but felt this one shied away from some of the darker places this could have gone. Oh, and comedy? I did not see anything funny here.
Mark Abell
Super Reviewer
a Dutch twist to the Hanzel & Gretel story. Suppose to be a dark comedy. Jacoub & his sis forget the name) Go out with their father to collect firewood only to be abandoned & left with nothing but a note to find their uncle in Spain. Didn?t seem like dark humor to me. although the ghost town area was cool. (made me think of a cool book I read) Was a different spin for sure but they didn?t need to advertise it as such. I don?t th ink this was the right movie I was looking for (think of) when I ordered it. There were parts I like & didn?t but after awhile although I was still watching it, I lost interest. D
Kym (c my community profile) Ragarsson
Super Reviewer
½
Parts of it were fun, but near the end I just wanted it to stop. Had a lot of hints of creepy incest.
Curtis Lilly
Super Reviewer
Grimm Quotes
There are no approved quotes yet for this movie.