Gumnaam
(1965)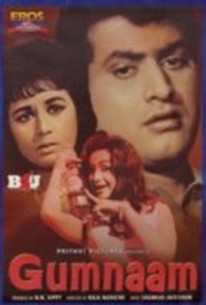 AUDIENCE SCORE
Critic Consensus: No consensus yet.
Movie Info
A group of people get stranded on a mysterious island with a large mansion.
Critic Reviews for Gumnaam
There are no critic reviews yet for Gumnaam. Keep checking Rotten Tomatoes for updates!
Audience Reviews for Gumnaam
Let me just say that this Movie was not an Original Idea except the role of Mehmood. Whatever Manoj tried to convince the directors to remove Mehmoods role, and the back stabbing though today no one remembers how great Manoj was in the Movie. Thanks to Producer N.N.Sippy who ignored Manoj protest against Mehmood in the Movie. People remember Mehmood when they hear Gumnaam and the song "Hum Kaale hain to kya hua dilwale hain" translated "Even if I am Black I can admire too." Some people even have no Idea that there is Manoj or Nanda or Pran in the Movie. The big Stars 60`s Not many people know today but Originaly there was another song but there was a Phrase which Mehmood told the Directors to remove it because it would offend the Muslims, that is how the song "Hum Kaale hain to kya hua" was "born". The Original one was removed and this one was a big hit. Too BAD for Manoj who kept saying the Movie and the song would be flop if they kept Mehmood. :)) However it is a nice Movie. Great location was chosen for the outdoor shooting. A shame they removed many many Scenes with Mehmood. The fact is that Mehmoods appearence in this Movie is Legendary! Many actors today copy the Madrasi Style of Mehmood from the Movie among other of Mehmoods Movie roles such as "Sabse Bada Rupiya" Mehmood had a phrase in the Movie "Saale teri driver Budda Jhaat Maru" Aamir Khan used it in the Movie Mela with a tiny bit short cut "Teri Jhaat Ka Baita Maru" One thing for sure Mehmood might had the same name in couple of Movie but his Character in every of his single Movies were Unique.
The Song:
Gumnaam Quotes
There are no approved quotes yet for this movie.