Gunhed
(1989)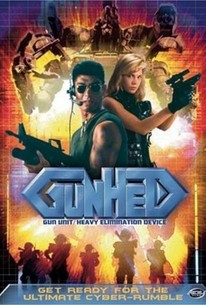 AUDIENCE SCORE
Critic Consensus: No consensus yet.
Movie Info
Criticized for its murky cinematography, bad special effects, and dialogue that would embarrass Sylvester Stallone, this Japanese co-production was widely regarded as a costly flop. Set in the year 2035 after evil supercomputer Kyron-5's war against humanity ends with defeat, the earth is left scared and plighted, lacking most natural resources. Computer chips have become more valuable than gold and the place to find such treasure is on the island 8JO, where Kyron still lives. Ex-pilot and cyber-buccaneer Brooklyn (Masahiro Takashima) and his gang of cutthroats venture to this techno-jungle looking for his silicon booty. There he meets Nim (Brenda Nim), a commando who is part of the Texas Air Rangers looking for a renegade robot. The group is soon under attack by a fleet of dreaded flying Aerobots. Meanwhile, Kyron-5 is hard at work hatching his revenge against mankind. It has invented a substance containing more energy than plutonium called texmexium. After successive onslaughts of Aerobots, the four survivors -- Brooklyn, Nim, and two lovable moppets named 7 and 11 -- find the texmexium and start to build Gunhed (Gun Unit/Heavy Elimination Device) a giant robot designed to kick Aerobot tail. More mayhem and cool explosions ensue, but not before Brooklyn gives an impassioned and surreal speech about the Brooklyn Dodgers.
Critic Reviews for Gunhed
There are no critic reviews yet for Gunhed. Keep checking Rotten Tomatoes for updates!
Audience Reviews for Gunhed
Enjoyable live action manga that has the obligatory enormous robots, crew of world weary, wise-cracking characters and bizarre japanese spiritualism. Great fun for manga fans, utterly incomprehensible to all others, this also has some great model effects and nicely faithful production design. The only drawbacks are the fact that it is dubbed (but tolerably so) and the fact that the plot relies a little too heavily on techno babble, so don't expect a great amount of depth or complex character development. But if you're a fan of the Final Fantasy films or just enjoy watching cool looking japanese robots beating seven shades out of each other, this will definitely appeal!
Gunhed Quotes
There are no approved quotes yet for this movie.