Guru, the Mad Monk
(1970)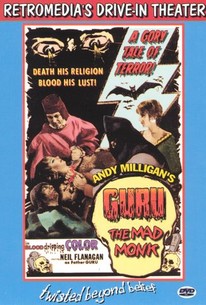 AUDIENCE SCORE
Critic Consensus: No consensus yet.
Movie Info
A power-mad clergyman uses his supernatural powers to enslave a group of prisoners and force them to do his evil bidding. He also consorts with a sultry mistress and a number of demonic creatures in this horror effort, oddly enough filmed in New York City's St. Peter's Church.
Critic Reviews for Guru, the Mad Monk
There are no critic reviews yet for Guru, the Mad Monk. Keep checking Rotten Tomatoes for updates!
Audience Reviews for Guru, the Mad Monk
I know what you're thinking to yourself. Why on Earth would this guy give this piece a crap such a high rating? Well when it comes to the craptastic I try to be fair and base my rating based on the enjoyment of it, rather than the quality. I know going in that Guru, The Mad Monk is a pile of junk, but is it so bad that it's good? I wouldn't say good, but definitely mediocre. The trailer actually features all of the biggest moments outside of the lengthy dialogue, but those are some great turd moments. A lot of this movie is pretty boring, and it takes a journey down a different avenue at every single cut. You never have a handle on things and you're constantly engaged because you want to see what they'll do next. Don't get me wrong though. There's tons of drone-inducing dialogue all throughout the movie. Everything from backstories, conversations and just plain old craziness talking into a mirror, it's all pretty bad and not all that laugh-inducing. It's actually the absurdity of a bunch of New Yorkers putting on what appears to be a play but it's actually a movie. The costumes, locations, acting - it's all bad. There's even a constant medieval dirge playing constantly in the background of every scene that feels more like a metronome lulling you to sleep, but it winds up being charming and fun anyways. If you can manage to sit through it without falling asleep and you appreciate the craptastic, then Guru, The Mad Monk is for you.
Tim Salmons
Super Reviewer
I have a pretty high tolerance for bad films, but I could not watch this in one sitting. I was literally pulling my hair by the middle of the film. I couldn't believe that someone filmed this. All I have to say is that it took some other kind of skill to make a movie like this.
Marion Ravenwood
Super Reviewer
Guru, the Mad Monk Quotes
There are no approved quotes yet for this movie.