What to know
critics consensus
Hail Satan? challenges preconceived notions of its subject with a smart, witty, and overall entertaining dispatch from the front lines of the fight for social justice. Read critic reviews
You might also like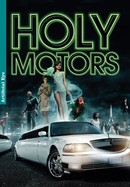 Rate And Review
Movie Info
Lucien Greaves co-founds the Satanic Temple, a religious movement that calls for a revolution to save the nation's soul.
Critic Reviews for Hail Satan?
Audience Reviews for Hail Satan?
DEVIL MAY CARE - My Review of HAIL SATAN? (3 1/2 Stars) ME: Mom? I have something to tell you. MOM: Of course. You can tell me anything. No matter what, I'll always love you. ME: Ok, but it's not what you think. MOM: A mother always knows. ME: You do? MOM: I've known probably before even you did. ME: Oh. MOM: I could just tell. By the way you looked at others. By your interests. By your mannerisms. ME: Ok, that's weird, but I'm just gonna come out and say it. MOM: That's right! Come out! ME: Momâ¦I think I'm a Satanist. MOM: Wha-wha-WHAT????!!! That's right, folks. It's almost impossible to walk away from Penny Lane's (OUR NIXON, NUTS!) new documentary, HAIL SATAN?, without wanting to join up with The Satanic Temple and do the devil's work. Needless to say, this film was not at all what I had expected beforehand. I thought I was in store for a peek inside a religious cult filled with blood sacrifices, voodoo and all sorts of evil, violent rituals and escapades. Lucifer, was I wrong! Lane immerses us in this non-theistic activist group, co-founded in 2013 by Lucien Greaves (not his real name), prominently featured in the film. Enraged by the church's encroachment upon the state, Greaves formed this social justice group and formed its seven basic tenets: One should strive to act with compassion and empathy towards all creatures in accordance with reason. The struggle for justice is an ongoing and necessary pursuit that should prevail over laws and institutions. One's body is inviolable, subject to one's own will alone. The freedoms of others should be respected, including the freedom to offend. To willfully and unjustly encroach upon the freedoms of another is to forgo your own. Beliefs should conform to our best scientific understanding of the world. We should take care never to distort scientific facts to fit our beliefs. People are fallible. If we make a mistake, we should do our best to rectify it and resolve any harm that may have been caused. Every tenet is a guiding principle designed to inspire nobility in action and thought. The spirit of compassion, wisdom, and justice should always prevail over the written or spoken word. This doesn't sound like the axis of evil to me. A marriage of serious advocacy and perhaps a bit of satire, the Satanic Temple has stood for LGBT rights, pluralism in school prayers, adopting highways, childhood abuse, abortion rights, Muslim refugees, among many other equal rights issues. Rather than wanting to stamp out religious expression, they only seek to expand it. A major undertaking of theirs involved wishing to plant a Baphomet sculpture (depicting a goat-headed, angel-winged demon seated in front of two gazing children) next to the Ten Commandments monuments displayed on government properties in many towns across the country. Not only do they want equal time for all religions, but their actions really serve to show the violations in the separation of church and state tenets we should hold so dearly. Funny enough, the origins of those biblical stones will astound you. It elicited a collective gasp at the Writers Guild screening I attended. No spoilers here, but this revelation is worth the price of the ticket alone. Also noteworthy are their unique and inspiring attempts to form a counter protest against the Westboro Baptist Church, the notoriously homophobic organization founded by the late Fred Phelps. By staging gay kiss-ins over the grave of Phelps' late mother, they hoped to change her sexual orientation in the afterlife! Yes, it's trolling of the highest order, but you can also feel the passion in their beliefs. The film plays out like a droll comedy, but at its heart are some serious issues and uniquely entertaining solutions. At this point, I wanted to empty my wallet and give everything to this group! Like any organization which welcomes all, as long as you have $25 for their membership card, a few nut jobs are bound to sneak in and wreak havoc. I remember back in the 90s, I was a member of ACT UP and was shocked that at the time, anybody who walked in off the street to a meeting could bring up issues and vote. It was almost TOO democratic and led to some eye-roll inducing moments. Same goes here, where we see a chapter leader advocating violence against a certain polarizing world leader. "Not today, Satan!", the group responds back as they quickly snuff her torch. All of this adds up to a truly entertaining experience which just may boost their membership. I'm not sure I want to don horns and shout "Hail Satan" on the steps of City Hall anytime soon, but any "religion" with a sense of humor and a completely refreshing credo will at least get me to bend the knee for anyone dressed in red and carrying a pitchfork next Halloween. Learn more here. You may just want to get the t-shirt: https://thesatanictemple.com/
Quotes
There are no approved quotes yet for this movie.