Hana to Alice (Hana & Alice)
(2004)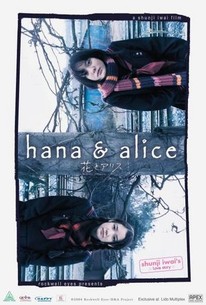 AUDIENCE SCORE
Critic Consensus: No consensus yet.
Hana to Alice (Hana & Alice) Photos
Movie Info
Two teenagers fall for the same boy with unexpected consequences in this popular comedy drama from Japan. Hana (Anne Suzuki) and Arisu (Yu Aoi) are a pair of 15-year-old girls who have been best friends for years. Arisu, the more outgoing of the two, has developed a crush on a boy and they begin dating. So that Hana won't feel left out, Arisu fixes her up with Masa (Tomohiro Kaku), one of her boyfriend's pals. However, after a few months, the bloom is off the rose for Arisu and her beau, while things are going swimmingly for Hana and Masa. Making matters worse for Arisu is the fact she's become quite infatuated with Masa, and one day while she's following him home from school, she sees him accidentally walk into a wall. Masa is knocked cold for a moment, and when he awakes, he sees Arisu, who attempts to convince him that she's actually his girlfriend...something he doesn't recall thanks to a mild dose of amnesia brought on by the accident, according to Arisu. Written and directed by Shunji Iwai, who created the international success All About Lily Chou-Chou, Hana to Arisu began as a series of candy commercials and became so popular as an expanded series of short subjects available online that Iwai adapted them into a feature. ~ Mark Deming, Rovi
Critic Reviews for Hana to Alice (Hana & Alice)
All Critics (1) | Fresh (1) | Rotten (0)
With an odd yet amusing sense of humour, a wistful plot, beautifully melodic music, captivating female characters and immersive cinematography, Hana and Alice is a great starter for those who love slice-of-life films.
Audience Reviews for Hana to Alice (Hana & Alice)
I liked this movie, even if it is a bit unfocused and strangely paced. I do like that the film focuses on the characters own issues separately from their issue with Masa. While I like the fact that these girls' lives (or at least the lives as they are presented in the film) don't revolve completely around this boy they both like and who they manipulate by convincing him that he has amnesia and he has forgotten his relationship with both girls, when in fact he never had a relationship with either one. I liked this part of the film and it's interesting to see the characters' motivations for doing what they do. The movie is as much a coming-of-age story as much as it is a romance, but the problem is that the way the film is edited together. The movie jumps back and forth between both girls individual stuff and when they're with Masa and it doesn't really flow well. The way the film is put together, it felt like a collection of episodes from a web-show. I think very little attention was put into how the film would gel and you can tell. As mentioned the film is too long for its own good as well. I don't think there's any reason to justify the film being as long as it is. Yea the film is divided into two parts, the parts where you look at the girls and their individual lives and the part where they're fighting for Masa. There's simply not material when you put both together to justify its length. Edit this movie by about 20 minutes, and the film really is considerably better because it can be a funny flick, not hilarious, but funny. The movie is still pretty good but it's a film that can, and most likely will, test your patience with its length.
Jesse Ortega
Super Reviewer
Hana to Alice (Hana & Alice) Quotes
There are no approved quotes yet for this movie.