Handsome Harry
(2010)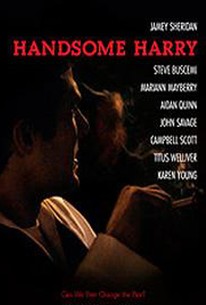 Movie Info
A man seeking to escape the past realizes that he'll first have to confront the present after receiving a desperate call from a friend on his deathbed. Harry Sweeny (Jamey Sheridan) is an aged but handsome divorcée with a grown son and a small business. He lives a comfortable life in a small town, where his main source of entertainment is stopping by the local diner to flirt with pretty waitress Muriel (Karen Young). But Harry's life hasn't always been this easy, and after getting a call from Tom Kelly (Steve Buscemi) he starts to remember why. Tom isn't long for this earth, and before he goes he seeks forgiveness from David Kagan, a fellow crewman that he and Harry knew from their Navy days. Unable to say no to an old friend, Harry sets out on a reluctant search for David, visiting old friends and drudging up painful memories in the process. Why does Tom feel like he needs David's forgiveness to pass on, and whose redemption is Harry searching for anyway? ~ Jason Buchanan, Rovi
News & Interviews for Handsome Harry
Critic Reviews for Handsome Harry
Audience Reviews for Handsome Harry
½
An interesting story. Acting is good, but the storyline isn't the most exciting. Decent, but seems to drag on, and on. Heavy-hearted ending.
Cynthia S.
Super Reviewer
½
Well into middle age, Harry Sweeney(Jamey Sheridan) is doing well for himself in his business as an electrician and has no plans to retire soon. Thomas Kelley(Steve Buscemi), an old pal from the navy who he has not talked to in 30 years, is not quite so lucky, as he lies dying in a hospital bed. Before he goes, he wants to apologize to a former crewmate, Kagan, of theirs who along with three others they brutally beat. But Kelley dies before he can locate him, leaving the task to Harry with a little help from Kelley's daughter(Emily Donahue) who provides him with her research. First stop, Peter Rheems(John Savage), another former crewmate. "Handsome Harry" is a low-key and meditative movie that is helped by a relaxed lead performance from Jamey Sheridan, along with a very good supporting cast that also includes Aidan Quinn, Campbell Scott and Titus Welliver. All of which is in the service of a story that seeks to explore the nature of forgiveness from an occasionally religious angle.(Harry confesses he wanted to be a priest at one point.) In short, are there some acts that cannot be forgiven? In any case, can we forgive ourselves or does guilt take over at some point? At one time, macho attitudes would not have allowed men to ask these questions of themselves but times are changing. So what may once have been impossible is now possible.
Interesting low key drama of a man in middle age forced to confront a shameful error in his distant past and try to make amends if possible. While it doesn't totally succeed and it's focus is sometimes off kilter the film still manages to entertain. Part of the reason why lies in the fact that for a small indie this has quite an impressive cast of higher profile quality actors, albeit that most appear briefly, than is usual in this type of film.
Handsome Harry Quotes
| | |
| --- | --- |
| Kagan: | I will forgive you Harry, if you truly believe that I should. And I will mean it. |
| | |
| --- | --- |
| Harry Sweeney: | Twenty minutes seems about the right amount of time for these little reunions. |