Hard Labor
(2015)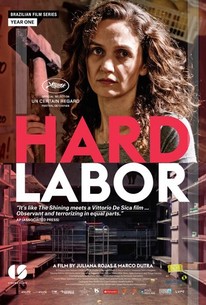 Movie Info
Young housewife Helena is on the verge of fulfilling a dream as she prepares to open her own business: a neighborhood grocery store. She hires a maid, Paula, to take care of her house and daughter. But when her husband Otavio is suddenly fired from his job as an insurance executive, Helena is left to support the family alone. As Otavio fails to find work and becomes increasingly alienated, business struggles to take off and the pressure on Helena mounts. To make things worse, she discovers that one of the building's brick walls seems to be crumbling. Helena begins to wonder if that may be the cause of all her problems.
Critic Reviews for Hard Labor
Audience Reviews for Hard Labor
Unusual, interesting Brazilian film about the current labour market, told through three very different characters in the same household. The crumbling wall of Helena's store and the reason for it create an element of suspense, which struck me as unnecessary at first, but actually adds an interesting layer to the storytelling. The symbolism is a bit too much, however, and the characterizations too flat.
Hard Labor Quotes
There are no approved quotes yet for this movie.