Hard Labour
(1973)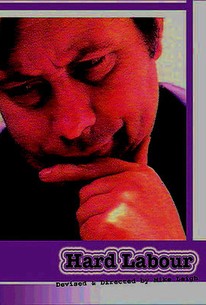 AUDIENCE SCORE
Critic Consensus: No consensus yet.
Movie Info
Mrs. Thornley (Liz Smith) leads a rather miserable existence in Salford. She lives with her husband, Jim (Clifford Kershaw), a night custodian at a toy factory, and their grown daughter, Ann (Polly Hemingway). Mrs. Thornley is a maid who works for an imperious upper-middle class woman, Mrs. Stone (Vanessa Harris). Between her work and her home life, it seems like Mrs. Thornley is always cooking, cleaning, and fielding complaints. Jim spends most of his spare time at the pub, and is pretty cold to his wife, drunkenly demanding sex from her once a week on the night he's not working. Jim's efforts to ingratiate himself to his supervisor, Mr. Shaw (Keith Washington), are met with a stony lecture about dressing properly on the job. Ann, meanwhile, has been spending her time trying to arrange an abortion for her friend Julie (Linda Beckett) with the help of a friendly Pakistani taxi driver, Naseem (an early turn by Ben Kingsley). The couple's son, Edward (Bernard Hill, who would later play Théoden in Lord of the Rings) seems to care about his mum, but his wife, Veronica (Alison Steadman, in the first of many performances for writer/director Mike Leigh), is a snob who constantly harangues him about his manners and looks down on his family. Mrs. Thornley, beaten down by her wearying existence, eventually seeks solace from a local priest. Hard Labour, Leigh's follow-up to Bleak Moments, was originally produced for the BBC's Play for Today series. It features an appearance by Alan Erasmus (who would become a major figure in the Manchester pop scene), portrayed by Lennie James in Michael Winterbottom's 24 Hour Party People. ~ Josh Ralske, Rovi
Critic Reviews for Hard Labour
Audience Reviews for Hard Labour
½
There are a couple of possible meanings that can be extrapolated for this movie's title after watching it.(A third, England's Labour Party, is missing from the conversation.) The first is obvious enough with the unceasing work of Jim Thornley(Clifford Kershaw) and his wife(Liz Smith), a middle-aged Catholic couple. So much so, that even as the end credits roll, Mrs. Thornley is still cleaning windows and presumably will be long after the viewer has stopped watching and moved on to other things. While she cleans during the day, he works nights as a custodian, giving them little down time together. This material is not as depressing as it sounds, with one amusing scene involving a nun. Overall, the movie could be said to be less than favorable towards the Church in the lack of support it provides its parishioners. The other possible meaning is domestic, as it involves Mrs. Thornley's two epic pregnancies from a time with less advanced medical technology, which she relates to her curious grown daughter, Ann(Polly Hemingway). This is part of the realm of the household where amongst her own paid work, Mrs. Thornley is expected without being paid to wait on her husband in a house where the only privacy to be had is on the toilet. Outside of this home, the movie is far ahead of its time in its sympathetic portrayal of immigrants, one of whom is played by a young Ben Kingsley.
Hard Labour Quotes
There are no approved quotes yet for this movie.