Haunt
(2014)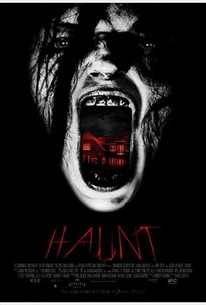 Movie Info
A family of five moves into a beautiful, sprawling dream home. One problem: it's cursed, having caused the deaths of the previous family to occupy it, leaving only one survivor (Jacki Weaver). The family's moody 18-year-old son and his mysterious new neighbor inadvertently awaken something in the house while also violently shaking the many skeletons in the many closets. Mac Carter's debut feature is a frightening and powerful character-driven haunted-house film that isn't afraid to take the action outside. (c) IFC
News & Interviews for Haunt
Audience Reviews for Haunt
½
Watchable coming-of-age horror with a wealth of dropped plot points.
This film has good atmosphere and a decent performance from Jacki Weaver and that's about it. Everything else is stuff you've already seen elsewhere and, most definitely, done better than this film ever could claim. It's certainly more than watchable, but I found the lead actor utterly wooden and his chemistry with his leading lady was practically nonexistent. You have to wonder what the purpose was of having these two be the leads instead of making the whole haunting something that affects the entire family. Maybe they wanted to get some residuals of the Twilight audience, that's pretty much the only reason I can think of for focusing on these two teens, who are fairly unlikable, mostly Sam though. The way the character is written makes her unsympathetic when, I imagine, it was supposed to be the exact opposite. So that failed. There's some good, atmospheric moments but the scares aren't really effective. Jump scares haven't ever been the most effective form of horror. It's easy to pull off and it's a cheap way to scare someone. It doesn't take any talent. So you have a film that has some good atmosphere but wastes it on cheap scares and unlikable characters. Not a very good movie, but I can think of worse ways to spend an evening.
Jesse Ortega
Super Reviewer
Haunt Quotes
There are no approved quotes yet for this movie.