He Loves Me, He Loves Me Not
(2002)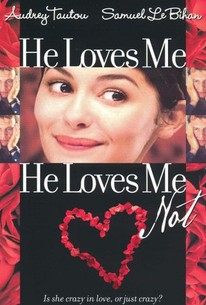 He Loves Me, He Loves Me Not Photos
Movie Info
He Loves Me ... He Loves Me Not is a black comedy with a dramatic twist. Talented art student Angélique (Audrey Tautou) is wildly in love with Loïc (Samuel Le Bihan of Brotherhood of the Wolf), a married cardiologist whose wife, Rachel (Isabelle Carré) is expecting their first child. She sends him mash notes and gifts, and tells her friend, Héloïse (Sophie Guillemin of With a Friend Like Harry...) that, despite appearances, Loïc plans to leave his wife. Angélique also ignores the attentions of her lovesick friend, David (Clément Sibony), who begins to resent the way Loïc treats Angélique. As Angélique grows less discreet in her affections, Loïc's home life begins to fall apart. His wife grows suspicious, and then miscarries. His career is jeopardized when a patient accuses him of assault. All the while, Angélique is desperate to be by his side. About 40 minutes in, writer/director Laetitia Colombani's film reverses perspective, showing the preceding events from Loïc's (very different) point-of-view. ~ Josh Ralske, Rovi
Critic Reviews for He Loves Me, He Loves Me Not
Audience Reviews for He Loves Me, He Loves Me Not
½
Beware of SPOILERS: It's tough to agree to sit to watch a romantic movie. Not really my cup of tea. But then IMDb had described this as a Thriller too, and so I decided to give it a go. And I'm glad I did. A simple story of troubles arising out of an infatuated teenager's misinterpretations of a married doctor's feelings. However, it's the slick execution that elevates the tempo of the plot & helps maintain the interest in this simple story. I liked how the writers made it as realistic as possible (instead of offering it as a no-brainer entertainer), and made such a crazy story believable enough with relatively few plot-holes. First, the story is told from Angélique's point of view, and thereafter the real circumstances are revealed. Although they don't come as twists as you kinda know what's in store, the effect is still amazing. I didn't like Amelie, but this one's exceptionally good. Indeed, well worth the risk. I was prepared for yet another disappointment, but it didn't come to that. It succeeded in overcoming my negative expectations. Entertaining stuff & a splendid experience. Of course, time & mood has played their role in it too. Some other day, I might have panned this flick for the very same reasons I appreciated it. Mood swings. For now, it's 7/10.
familiar stranger
Super Reviewer
½
Decent movie, with an interesting twist that I wasn't expecting. A gimmick maybe, but a cleverly employed one that works thanks in no small part to the smart writing, and good performances. As typical for most French fims, this was a little slow...but ejoyable enough.
Cynthia S.
Super Reviewer
½
This was one of the best French movies I have seen in a long time! Half of it is from Angelique's point of view (Audrey Tautou), such a happy, sweet girl that you really feel bad for her that she's being messed around by this married jerk. It is at this point, very visually pretty to look at - lots of reds and hearts, and of course Audrey is very beautiful. Then it switches as .....SPOILER....... Angelique decides to kill herself, and the story starts over again, giving you the chance to see what actually happened from point of view of the married man. Suddenly you realise Angelique is not exactly all she seems!
Nicki Marie
Super Reviewer
He Loves Me, He Loves Me Not Quotes
There are no approved quotes yet for this movie.