Hell Up in Harlem
(1973)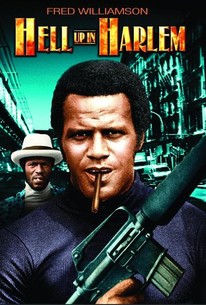 Movie Info
Fred Williamson returns in this sequel to Black Caesar, in which the Harlem mobster fights to regain his power after surviving an assassination attempt.
Critic Reviews for Hell Up in Harlem
Audience Reviews for Hell Up in Harlem
½
Picking up (in a slightly shortened and retconned form) where Black Caesar left off, this direct sequel, while fun, is a but of a letdown. Oh, it's certainly enjoyable, but it makes the mistake a lot sequels make and looks and feels rushed. This is especially true because it was filmed concurrently with another film, with this one being done on weekends. They shouldn't have done that. They did get pressured by the studio to cash in on the success of Black Caesar, and while greed is one thing, laziness and hastiness are completely different, and are no excuse for the drop in quality. The first film was all about character and story. This one goes for the slam bang action route. That's not a bad iddea per se, but the way it is done leaves a lot to be desired. This is a decent sewuel, but it could have been absolutely fantastic. One scholar who reviewd this said he thinks it would have been better had they taken 30-45 minutes from this and added it to the first film to create a single cohesive story instead of making a sloppy sequel. I agree to an extent with that, as that could have been cool, but I much rather like the idea of a direct sequek (so long as it maintained the same level of quality). I don't hate this. In fact, this is a fun popcorn movie. You have no choice but to see the first film though, otherwise this one just won't work. The music is okay, but there's no James Brown. His work on the first wasn't great, but he is missed. In short, this is worth one viewing, just to be a copletist, but it's not a mandatory view. However, there is a fun moment that made me smile, a
Chris Weber
Super Reviewer
I loved Larry Cohen and Fred Williamson's previous collaboration 'Black Caesar', one of the toughest and most enjoyable movies of the early 70s blaxploitation boom. That movie was a great success and in the rush to cash in with a sequel something was lost. Cohen was shooting his killer baby classic 'It's Alive' at the same time Williamson was making 'That Man Bolt', yet they still attempted to make 'Hell Up In Harlem' simultaneously! Cohen's script is weaker this time around and the emphasis is on fights (fists and guns) over character development and story. The movie is more of an action film than a crime drama and therefore much less interesting to me. Williamson is still a powerhouse, but the movie as a whole fails to satisfy. Gloria Hendry ('Black Belt Jones') and D'Urville Martin ('Dolemite') both return from the first movie but aren't required to do all that much. You could even call their roles cameos and not be far wrong. Julius Harris ('Superfly') also returns as Williamson's father, but this time round he has a much larger role, and almost carries the first third of the movie all by himself. The film directly follows on from 'Black Caesar' with Tommy Gibbs (Williamson) recovering from a near fatal gunshot wound. He relies upon his Pop to keep things together, and this enables Harris to blossom from a middle aged straight citizen into a cool dressing killing machine almost overnight! This is one of the most entertaining things about the whole movie, but not enough to stop it from being a disappointment. Even the score this time round is inferior, with no James Brown content. I think this movie was too rushed and suffers for it. It has its moments but isn't a patch on 'Black Caesar'. I've noticed that quite a few blaxploitation classics fail to deliver with their sequels (I'm especially thinking of 'Foxy Brown', Jack Hill's weak follow up to his sensational 'Coffy'). I wonder why that was? Greed perhaps, or lack of faith in the material, I don't know. Anyway, 'Hell Up In Harlem' is okay, but it could have been, SHOULD have been a lot better! 'Black Caesar' is still brilliant though, don't miss that one.
Cassandra Maples
Super Reviewer
Hell Up in Harlem Quotes
There are no approved quotes yet for this movie.