Hero
(2004)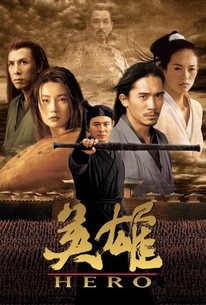 TOMATOMETER
AUDIENCE SCORE
Critic Consensus: With death-defying action sequences and epic historic sweep, Hero offers everything a martial arts fan could ask for.
Movie Info
Hero is two-time Academy Award nominee Zhang Yimou's directorial attempt at exploring the concept of a Chinese hero. During the peak of their Warring States period, China was divided into seven kingdoms all fighting for supremacy. Most determined to dominate China was the kingdom of Qin, whose king (Chen Daoming) was wholly obsessed with becoming the first emperor of China. Though he was an assassination target for many, none of his would-be killers inspired as much fear as the legendary assassins Broken Sword (Tony Leung), Flying Snow (Maggie Cheung), and Sky (Donnie Yen). In hopes of thwarting his death, the king has promised endless wealth and power to anyone who defeats his would-be murderers. No results come until ten years later, when a man called Nameless (Jet Li) brings the weapons of the three assassins to the Qin king's palace. Nameless claims to be an expert swordsman who had defeated Sky and destroyed the famed duo of Flying Snow and Broken Sword by using their love for one another against them. Once Nameless comes face to face with the king, however, it looks as if the situation is more complicated than he had thought. Also featured in Hero is actress Zhang Ziyi (The Road Home, Crouching Tiger, Hiden Dragon) as Broken Sword's devoted servant, Moon.
News & Interviews for Hero
Audience Reviews for Hero
While I wasn't very much engaged in the story, what really got to me were the insane battle scenes, scenery and overall style of the film. Worth watching.
½
I may not be a giant fan of wuxia, but I can appreciate an insanely detailed & stunningly beautiful film. Narratively speaking, it isn't the most engaging of films. However, it is an exercise in lavish cinematography in which Christopher Doyle does not disappoint. From the fight scene on the lake to the battle in the palace, one cannot help but be swept up in the exquisite color schemes & the stirring shot compositions.
A lone warrior enters the palace of his emperor and tells the tale of how he defeated the three most feared assassins in the land. The most obviously striking element of Hero is its sheer visual beauty as it is packed to brimming with stunning costumes, colours and sets and uses the same kind of graceful wirework that we encountered in Crouching Tiger, Hidden Dragon. The fight choreography is also beautifully executed making for a very poetic martial arts film. Although clearly languishing in the back seat of Zhang Yimou's concept, the plot is actually a rather interesting hybrid of Rashomon and The Usual Suspects which adds a different twist to the usual "heroic warriors making noble sacrifices" formula of this type of thing. Because Zhang is so concerned with the visuals, the flashback format does mean that we don't really get enough time to get to know the protagonists which means there's little in the way of emotional involvement but as a sheer visual spectacle, Hero is second to none.
Hero Quotes
| | |
| --- | --- |
| Nameless: | Martial arts and music share the same principles. Both wrestle with complex chords and rare melodies. |
| | |
| --- | --- |
| The King of Qin: | What words did Broken Sword write? |
| King of Qin: | What words did Broken Sword write? |
| Nameless: | Our land. |
| The Warrior: | All under heaven. |