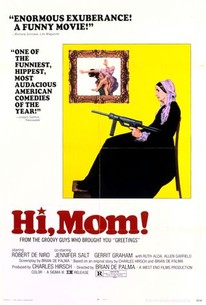 Hi, Mom
1970, Comedy, 1h 27m
11 Reviews
2,500+ Ratings
Rate And Review
Movie Info
After serving in Vietnam, veteran Jon Rubin (Robert De Niro) arrives in New York City and approaches sleazy producer Joe Banner (Allen Garfield) about directing a pornographic film. Rubin becomes obsessed with his beautiful neighbor, Judy Bishop (Jennifer Salt). He also begins shooting footage of the residents of an apartment building on the other side of the street. Soon, he falls in with a group of militant black activists as he struggles to find meaning in his increasingly unsatisfying life.
Rating: R

Genre: Comedy

Original Language: English

Director: Brian De Palma

Release Date (Theaters): limited

Release Date (Streaming):

Runtime:
Audience Reviews for Hi, Mom
"Hi, Mom!" starts with a building superintendent(Charles Durning) bending over backwards, literally not figuratively, to rent a lovely slum apartment to Jon Rubin(Robert De Niro) who accepts it in order to film the occupants of the apartment building across the way. Instead of going straight to the Museum of Modern Art with his footage, he goes to the first smut peddler(Allen Garfield) he comes across who seeing the pornographic possibilities decides to bankroll him despite the dubious legality, ethics and morality of the enterprise. While filming, Jon takes special notice of Judy Bishop(Jennifer Salt), always lonely, and decides to seduce her. Like most of Brian De Palma's more recent films, "Hi, Mom!" wears the influence of other films on its sleeve, in this case the French New Wave(as do other films in the current 'New Yawk, New Wave' festival currently showing at the Film Forum, as other people have pointed out). But at least here, he takes the jump cuts and puts them to alternately hilarious and disturbing uses while telling an original story to deftly show how technology separates us, not brings us together, made still relevant today by the advent of the infernal cell phone while giving glimpses of a bygone New York City. For a while, this may feel like little more than elaborately devised skits but it all comes together toward the end in an increasingly provocative narrative.

This movie is more of a documentary about radical New York film and theatre groups in 1970. It's really uneven and all over the place, and the end doesn't make any sense. Overall, it's interesting, but not a good movie.

Continuing the hilarious scenario fro Greetings, this is an even better film with a lot more direction and better acting. Robert De Niro continues to dominate the screen as Jon Rubin, the suave peeping tom/porn film-maker. His sense of humor and deranged sincerity is like no other actor. He tries to go professional after coming back from Vietnam, where he found himself at the end of the previous film. This has an extreme sense cultural relevance of the late 60s-early 70s, dealing with the hippie culture, the end of the civil rights movement, etc. It's just so full of life that you can't help but admire Brian De Palma for shooting reality. While some might say it's a black comedy, I feel that it's just as much an accurate reflection of New York at the time.

"Greetings" was good but the sequel "Hi, Mom!" is astonishing, easily the best of Brian De Palma's early comedies and still one of the greatest films he has made. It's overflowing with terrific ideas and is brilliantly shot and edited, retaining a vitality and an awesome power in spite of its often dated subject-matter. Robert De Niro reprises his role of Jon Rubin, a voyeuristic Vietnam vet who sets out to make a porno movie by surreptitiously filming the residents of a neighbouring apartment block, then joins an experimental theatre group and, finally, becomes an urban terrorist. The first part of the movie, with Allen Garfield reprising his role of a smut peddler from "Greetings", is hilarious, and one is completely unprepared for the shattering shift in tone which follows with the "Be Black, Baby" segment, in which a group of whites in blackface are terrorized by blacks in whiteface to help them understand the 'black experience' of living in America. This harrowing sequence alone would make "Hi, Mom!" a five-star film; everything else is just a bonus.
See Details