Hitler's Children
(2012)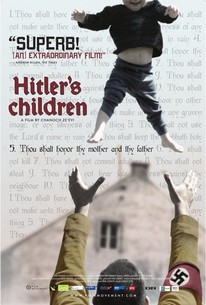 Movie Info
This documentary is about the descendants of the most powerful figures in the Nazi regime: men and women who were left a legacy that permanently associates them with one of the greatest crimes in history. What is it like for them to have grown up with a name that immediately raises images of murder and genocide? How do they cope with the fact that they are the children of ... literally, not just metaphorically.
News & Interviews for Hitler's Children
Critic Reviews for Hitler's Children
Audience Reviews for Hitler's Children
A compelling look at the sense of blood-guilt shared by the descendants of some of the most notorious Nazi monsters. I found it thoughtful, disgusting and moving.
Christian C
Super Reviewer
A striking, and important, documentary revealing the burden that must be faced when descended from Nazi war criminals..."Not every story has a happy ending." This is powerful stuff, and gets even more emotional the further into the film you get. No one ever forgets what happened, but some choose to forgive, while other choose to only remember.
Cynthia S.
Super Reviewer
½
A powerful, moving documentary concerning the descendants of some of Hitler's right-hand men and how they deal with their current-day lives despite their painful family history. An important, uniquely fascinating examination of how one deals with ancestors who were absolute monsters, and how one goes on knowing that may be in their blood. There is a moment that takes place at one of the Holocaust sites concerning a survivor and a descendant that is one of the most moving moments captured in a documentary. It's a very basic, simple approach on a complicated subject, and the result is a great film that should be viewed by anyone interested in this period in history.
Dan Schultz
Super Reviewer
Hitler's Children Quotes
There are no approved quotes yet for this movie.