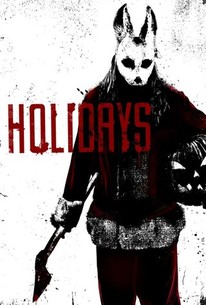 Holidays
2016, Horror, 1h 44m
30 Reviews
500+ Ratings
Where to watch
Rent/buy
Rent/buy
Rent/buy
Rate And Review
Movie Info
Nine filmmakers present horror stories that revolve around Valentine's Day, Saint Patrick's Day, Easter, Mother's Day, Father's Day, Halloween, Christmas and New Year's Eve.
Genre: Horror

Original Language: English

Director: Dennis Widmyer, Kevin Kolsch, Gary Shore, Nicholas McCarthy, Sarah Adina Smith, Anthony Scott Burns, Kevin Smith, Scott Stewart, Adam Egypt Mortimer

Writer: Dennis Widmyer, Kevin Kolsch, Gary Shore, Nicholas McCarthy, Sarah Adina Smith, Anthony Scott Burns, Kevin Smith, Scott Stewart

Release Date (Theaters): limited

Release Date (Streaming):

Runtime:

Distributor: Vertical Entertainment
News & Interviews for Holidays
Audience Reviews for Holidays
In terms of horror anthology, it's pretty middle of the road. Worth the watch for the aficionado, but certainly won't convert anyone who hasn't already surrendered their life to the Horror Movie Gods (except maybe the Halloween and Father's Day segments. Those were pretty good).

One fantastic short (Father's Day), one good (New Year's), the rest duds.

Patchy, but enough good stories to make it a worthwhile watch. I liked the Halloween, Xmas and St Patrick's day the best. The others were missable.

The problems that plague this anthology film is the same problems that have plagued almost every anthology film in existence. And that is the lack of consistency in the shorts themselves. And that is due to the fact that you have different filmmakers all telling their own little stories. The most consistently entertaining anthology film I've ever seen, Wild Tales, was written and directed by one man. All of the segments were done by the same guy, so that, unsurprisingly, led to a consistent tone between all of the shorts. Films like this, or ABCs of Death, while conceptually really cool, won't have that cause you have all these different types of filmmakers working with different writers and that's why some of the shorts would fall short when compared to others. This film is no different. I think that a great majority of the shorts are conceptually interesting, but the execution fell short of the concept. The film starts off with a solid Valentine's Day segment, where this girl, bullied by others and romantically obsessed with her swimming coach, kills one of the girls that bullies her and brings her heart to the coach. It's not the best the film has to offer, but it was a solid enough start to the film. The St. Patrick's Day segment of the film is the first truly great one. This woman is impregnated by snake and that's all you need to know as this one goes to some really interesting places. The Easter segment is probably one of the weakest ones. There's an interesting take on how children perceive what parents tell them and how their imagination runs wild with that information. There's also some interesting concepts regarding faith and how children react to that. With that said, I just didn't really like the short in and of itself outside of that. It's just a really weak segment. I think Easter is the weakest segment of the film, but Mother's Day is right after that. It's similar to the St. Patrick's Day segment, but it's just not nearly as good nor does it reach the same levels of absurdity. It was, realistically speaking, a pointless segment. So, yea, Mother's Day is the weakest segment of the film. At least Easter had the fucked up Bunny Christ. Father's Day, I felt, was the best short of the entire movie. It doesn't reach levels of absurdity or anything of the sort, it's a simple melancholic tale of loss. This woman finds this recording of her father, whom she thought passed away during her childhood. The recording, essentially, guides the woman to this place where she is to be reunited with him. I liked how the short was paced, how it was acted and it ended on a really strong note. St's Patrick's Day embraces the absurdity of its concept, so I think that might appeal more to people, but I still felt that this was the best segment of the entire movie. Halloween is probably the 'funniest' segment of the film, since it was written and directed by Kevin Smith. These three cam girls torture their 'john', I don't know what you call it when it comes to cam girls, to death. It was a solid, entertaining short. Christmas was another weak one. The lead character lets another man die because he bought the last remaining gadget at the store that his son wanted. So he takes the device while watching this man die.. The product is Google Glass-esque device that shows you you, as the product was promoted. Everyone sees something different, sort of like your own personal profile, but you have to log out or else you see what the last person saw. Basically the man sees something he wasn't meant to see and that was it. Talk about weak. It was just an uninteresting and didn't have a story worth telling. New Year's Even ends the film off on a decent note. This man, a killer who stalks women on dating sites only to kill them, goes on this date with a woman who ends up being crazier than she is. It was basic, but it was still pretty decent. And that's about it. So, really, you can see how I though this might have been a mixed bag. There's two great shorts and everything else is kinda meh, even the ones that are good. There's some good concepts here, but, again, the execution doesn't always live up to that. And that is a damn shame, because I wanted this to be a great movie. It was not to be, however. If you must watch this, watch only St. Patrick's Day and Father's Day, you'll thank me later. Oh and watch Easter for Bunny Christ. With that said, this is an average anthology flick.
See Details