Home from the Hill
(1960)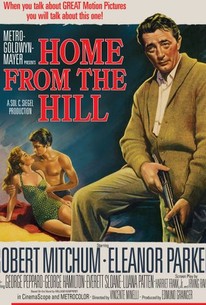 Home from the Hill Photos
Movie Info
William Humphrey's novel Home From the Hill is compressed into 150 minutes for this MGM all-starrer. Robert Mitchum plays Capt. Wade Hunnicutt, a Texas millionaire, married to Hannah (Eleanor Parker). The Hunnicutts have two children of approximately the same age: Wade's biological son, Theron (George Hamilton in one of his earliest film roles), and his illegitimate son, Rafe (George Peppard). As the story opens, Wade conducts an extramarital affair; meanwhile, Theron (George Hamilton), disturbed by his parents' dysfunctional relationship, is not anxious to marry his true love, Libby Halstead (Luana Patten). The vicious cycle threatens to continue when Libby gives birth to Theron's out-of-wedlock son, but it is Rafe who turns Libby into an "honest woman" by acting as father to the child. Vincente Minnelli directs his material operatically, which is as it should be given the larger-than-life character and emotional entanglements he has to deal with.
Critic Reviews for Home from the Hill
Audience Reviews for Home from the Hill
½
A trifle overlong but involving film firmly guided by Minnelli, one of his best non musical films. Always a master of effective use of Technicolor that trait doesn't fail him here making the full use of various shades to sets the emotional tone of a scene. He makes the whole picture a feast for the eyes, even the swamps look gorgeous and the actors glow with individual beauty. Speaking of the actors, the four principal protagonists give some of the best performances of their careers, in Hamilton's case perhaps his all time best. In their only pairing Mitchum and Eleanor Parker spark off each other making you understand that under the great bitterness that now enfolds them there had to once be a great love at its root to breed so much strong an estrangement, its a pity they never were paired again. The two Georges as Mitchum's sons, one recognized the other illegitimate, make strong impressions which moved both of them forward in the Hollywood of the time. Peppard was the superior actor and has the more complex role which he finds many layers in but Hamilton handles the callow Theron very well, his years as an overly tan, rather oily dilettante has pretty much negated the memory of the promising young actor he once was. A solid entertainment with some elements of soap but really a story of how secrets and arrogance can fester and hurt more than just the people initially involved.
½
a touch too much of the 50s hollywood epic for my taste but highly watchable. a big macho melodrama in which mitchum of course rules and george peppard is surprisingly laid back and cool. can't fault minelli's direction either
Stella Dallas
Super Reviewer
½
"Home from the Hill" starts with Rafe(George Peppard) saving the life of his boss, Captain Wade Hunnicutt(Robert Mitchum), when he is shot by a wronged husband. Even after that, Wade is not even sure which husband exactly, as Rafe would like material compensation for his act of heroism but is turned down flat. Wade's son Theron(George Hamilton) is 17 and is only old enough to hunt snipe but his father feels it is time to change that. Amazingly enough, Theron takes to hunting and is a fine shot but his mother Hannah(Eleanor Parker) is angry at Wade because she had been promised to be put in charge of raising her son. Then, the wild boar shows up which Wade thinks would perfect for his son to hunt... Directed by Vincente Minnelli, "Home from the Hill" is an engaging and epic soap opera that subtly dismantles the idea of the perfect patriarch. With very little sanctimony, the movie says there is more to being a man than bedding women and hunting, of which responsibility is a huge part. And there is nothing wrong with Theron being as learned as he is, but then this is Texas where men are real men, women are real women, and I don't have to remind you about the sheep, do I? Speaking of masculinity, Robert Mitchum is perfectly cast in the lead, while some of the other acting might seem a little off in retrospect.
Home from the Hill Quotes
There are no approved quotes yet for this movie.