Home of Dark Butterflies
(2008)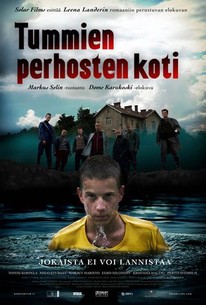 AUDIENCE SCORE
Critic Consensus: No consensus yet.
Movie Info
Haunted by his traumatic past and cautious about the prospects of an uncertain future, a fourteen year old boy named Juhani winds up in an isolated boys' home known as The Island in this adaptation of author Leena Lander's popular novel of the same name. Juhani (Niilo Syvaoja) has been shuttled between foster homes and temporary families for the past six years, leaving any prospect of stability in his life a faded dream. When Juhani winds up in a remote shelter for troubled youth known as The Island, he has little idea of how ruthless superintendent Olavi Harjula (Tommi Korpela) can truly be. In addition to Harjula and the six other boys, The Island is also home to the superintendent's wife Irene (Kristiina Halttu), the couple's two young daughters, and Tynne (Kati Outinen) - who tends to the local livestock in addition to catering all the meals. As the situation on The Island grows unbearable and Juhani is forced to deal with such difficult issues as forgiveness and responsibility, the boy without a past becomes determined not to let the future slip through his fingers.
Critic Reviews for Home of Dark Butterflies
There are no critic reviews yet for Home of Dark Butterflies. Keep checking Rotten Tomatoes for updates!
Audience Reviews for Home of Dark Butterflies
Based on a novel, written by Leena Lander, "The Home of Dark Butterflies" is a story about a young boy, Juhani, who gets sent to a fosterhome. He is a troubled boy, who sees nightmares of his past, the time when he was taken away by the social workers. In the fosterhome he befriends with the other boys. With the help of the fosterhome's manager, he might have a brighter future ahead. Dome Karukoski is one of the most talented young directors from Finland. His vision of the novel is somewhat "brighter" than the original. But eventhough the filmmakers have wanted to make this film a melodrama for the whole family, it still has alot of dark themes like abuse and murder. The acting is very solid in the movie, especially the young kids manage to surprise me in a positive way. Cinematography focuses alot on the element of water. In overall, the camerawork is on a high level. Dome Karukoski's best effort thus far and one of the best Finnish films of 2008.
Home of Dark Butterflies Quotes
There are no approved quotes yet for this movie.