Hoodwinked Too! Hood vs Evil
(2011)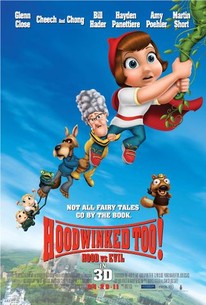 TOMATOMETER
AUDIENCE SCORE
Critic Consensus: It may add 3D to the original, but Hoodwinked Too! is missing the first installment's wit and refreshingly low-budget charm.
Hoodwinked Too! Hood vs Evil Photos
Movie Info
The sequel to Hoodinked finds our heroine, Red (Hayden Panettiere), training with a mysterious covert group called the Sisters of the Hood. But Red is forced to cut her training short when she gets an urgent call from Nicky Flippers (David Ogden Stiers), who returns as head of the super-secret Happily Ever After Agency, aka the HEA. A wicked witch (Joan Cusack) has abducted two innocent children, Hansel (Bill Hader) and Gretel (Amy Poehler), and Nicky needs Red for the search-and-rescue mission. Granny (Glenn Close) and the rest of the Hoodinked gang-including the ever-clueless Wolf (Patrick Warburton) and his over-caffeinated little partner, Twitchy (Cory Edwards), join Red to solve the forest's latest caper. -- (C) Official Site
People Who Like this movie also like
News & Interviews for Hoodwinked Too! Hood vs Evil
Critic Reviews for Hoodwinked Too! Hood vs Evil
Audience Reviews for Hoodwinked Too! Hood vs Evil
Now I like the first Hoodwinked movie very much, and for a low budget CG film its very funny and keeps you entertained, so when I heard they were going to make a bigger budgeted 3-D sequel I was interested, but the better CG doesn't add to how poorly this film was made, the CG may be better, but the lip synching is terrible and the voice acting isn't that good. Though Patrick Warburton was still funny as the Wolf, the new voice actors just didn't do it for me. The villains of the film are lame and annoying along with their voices and attitudes, there were only a few real moments that made me laugh, the plot is forgettable, and it rips off Star wars which is inexcusable to do, and they even have a moment where Ben Kenobi talks to Red and says "Wrong person." That is just flat out stupid. The only real thing I liked in this film was the scene with the three little pigs being bad mercenaries, but the funny thing about it is that Cheech marin plays one pig and Chong plays another, and I found that pretty funny actually, but the rest of the film is just crap, and Is undoubtedly the worst film I've seen this year.
Michael Edwards
Super Reviewer
It's a kid's movie, what more to say, really? It did seem to have a not too bad storyline, so shouldn't be too painful for any adults watching, but I am sure it is not really something an adult would pick out to watch alone! A few laughs and some good characters.
Nicki Marie
Super Reviewer
The first one was better than this. They should have left the movie alone after making that.
Dead Angel
Super Reviewer
Hoodwinked Too! Hood vs Evil Quotes
| | |
| --- | --- |
| Red: | You can't pair me up with him, he'll just slow me down. |
| | |
| --- | --- |
| Mad Hog: | Heh heh! We got us a rodent problem. |
| Stone: | He's not wearing any pants. |
| | |
| --- | --- |
| Moss the Troll: | You think you can deliver that basket of goodies across my bridge? |
| | |
| --- | --- |
| Hansel: | You have come to save us like angels from heaven! |