The Horror of Party Beach
(1964)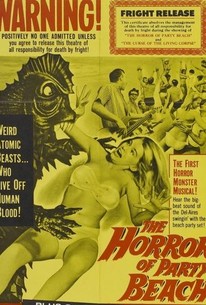 The Horror of Party Beach Videos
The Horror of Party Beach Photos
Movie Info
Stuffed with nearly all the essential ingredients for a '50s drive-in classic -- including rubber monsters, clean-cut biker gangs, countless inane rock & roll numbers, and twistin' teeny-boppers who appear to be about 35 -- this uproariously awful monster flick has secured a fond place in the hearts of bad-movie buffs. The horror of the title comes in the form of numerous scaly creatures whose fishy mouths are filled with a tube-like apparatus that makes them appear stuffed to overflowing with frankfurters. Spawned from both human remains and sea life (thanks to a healthy dose of ocean-dumped radioactive waste), the monsters emerge from the sea to dine on surfers and bikini-clad nymphs during a nearly constant teen beach party. Allen Laurel portrays a completely useless scientist who manages to find a solution to the monster menace only after his maid knocks over a vial of sodium on a specimen of one such creature. Armed with this knowledge, Laurel locates the flooded quarry that serves as the beasts' lair, allowing the military to give the critters what-for with a hail of sodium bombs. Director Del Tenney reportedly helmed several scenes from his sickbed while battling the flu... which probably explains quite a lot. The soundtrack features a plentitude of non-hits performed by surf-rockers The Del-Aires (named after the director?) including the toe-tapper "Zombie Stomp."
Critic Reviews for The Horror of Party Beach
Audience Reviews for The Horror of Party Beach
The DelAires music alone make his a must see. It is totally fun, and the goofy Drive In, Monster, Beach Party, classic.
Brent Carnes
A very goofy looking movie with some strange looking creatures. The characters and plot aren't very good and the ending was very bland.
Wes Shad
½
Some crazy creature terrorizes teens on the beach, that's all, there's not much to this movie, and it's not really worth watching.
The Horror of Party Beach Quotes
There are no approved quotes yet for this movie.
Discussion Forum
Discuss The Horror of Party Beach on our Movie forum!