Hour of the Gun
(1967)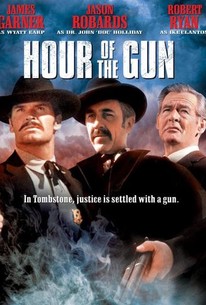 Movie Info
John Sturges directed this sequel to his Gunfight at the O.K. Corral, which is more of a melancholy character study than an action Western. The Edward Anhalt screenplay (based on Douglas D. Martin's Tombstone's Epitaph) traces Wyatt Earp's (James Garner) moral decline from a lawman with high ideals to a mean-spirited vigilante bent on personal revenge. Ironically, Doc Holliday (Jason Robards), an admitted lawless gambler, reacts to Earp's vengeful turnabout by becoming the moral force that Earp has rejected. When Earp's brothers are killed by goons employed by Ike Clanton (Robert Ryan), Earp becomes obsessed with vengeance and organizes a posse to track down the killers.
Critic Reviews for Hour of the Gun
Audience Reviews for Hour of the Gun
Excellent western- Be sure to check it out on HD Movie Net
Jeffrey Meyers
Super Reviewer
½
Other riveting, based on the story of showdown between the Earps and the Clanton gang s certainly as much a part of American mythology as I believe this since I last watched 1994's Wyatt Earp. There are solid performances all around, beginning with James Garner who plays a hero with a badge, and is powerful in his intensity. And Jason Robards Jr. is quite good in his character, and does deliver a couple of colorful lines to Earp. The relationship and chemistry between the two men is unique. It's difficult to outline, but it's like these two were old souls who would go through hell with/for each other and never need to wonder or to argue it.
Dean McKenna
Super Reviewer
An unusually dour James Garner in another solid telling of the Wyatt Earp story, unusually opening with the gunfight at the OK Corral. Jason Robards is a nicely sardonic Doc Holliday, and it's solidly handled by Sturges (also responsible for The Magnificent Seven).
Hour of the Gun Quotes
There are no approved quotes yet for this movie.