La casa sperduta nel parco (House on the Edge of the Park)
(1985)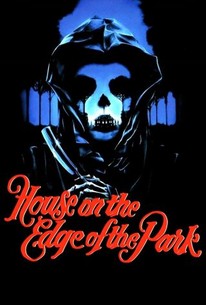 La casa sperduta nel parco (House on the Edge of the Park) Photos
Movie Info
When a pair of sexually-frustrated hoods (David Hess and John Morghen) decide to force the socialite partygoers in a New Jersey mansion to submit to their darkest desires, they never dream that their captives have even more twisted ideas in mind.
Critic Reviews for La casa sperduta nel parco (House on the Edge of the Park)
Audience Reviews for La casa sperduta nel parco (House on the Edge of the Park)
½
Known by all who are into exploitation cinema, The House on the Edge of the Park is a testament to Ruggero Deodato's savage cinema. This is the idea I had coming into it. So, obviously, I had prepared myself in advance to watching this, thinking this would be some pretty damn brutal stuff. Ninety one minutes later, I was surprised at what I had seen. It was pretty damn brutal, alright, but, sadly, the movie never accumulated. Just to clarify, The House on the Edge of the Park has some of the most violent and disturbing images ever committed to film. Some scenes I thought about leaving the room for because of how nasty they really are, but while these individual scenes were horrifying, the movie as a whole didn't match the hype of what I had heard. Why is simple: Deodato didn't seem to be trying to make a serious and brutal thriller. Instead, it was almost a dark (extremely dark) comedy, as well as a soft core rape/porn flick, with a few thrilling elements on the side. Because this is mostly sexploitation, the brutality angle is weakened, making it merely a sleazy, trashy movie, instead of being a dark and serious revenge thriller. The movie opens to Alex brutally raping and killing a young socialite he had met earlier at a disco-tech. The next night, he's ready for some boogieing with his best friend and slightly retarded Ricky. Just before leaving, some rich young folk, Annie and Tom, drop into his garage with a bad engine. Ricky fixes it in no time, and Alex says there'll be no charge if the two could join the little shin-dig they were heading off to. Once at the "House on the Edge of the Park," they meet Glenda, Gloria, Susan, and Howard, and they all proceed to make an ass out of Ricky, who, being retarded, enjoys the attention. Alex can't take seeing his buddy being made a fool, and proceeds to get the hots for Annie. After a nice shower, Alex comes back to catch the rich bastards now cheating his best buddy out of a poker game. This is when Ricky and Alex begin their "fun." Alex holds everyone hostage with a straight razor, and Ricky gets his money back. Then Alex goes berserk, slicing, dicing, and beating anyone who tries to stop him. Ricky thinks Gloria is cute and tries to rape her, but he has morality and can't bring himself to. Alex thinks this as weak, and proceeds to have his own fun with everyone else in the house. Slowly, the rich folks get the upper hand, and it all ends in a rather good twist to the whole night. Wes Craven once said that in horror, you have to hit the audience at the start, and not hit them again as hard until the end, and The House on the Edge of the Park does exactly that. The opening comes out of frickin' no where, and had me going that this was going to be one hell of a ride. The problem was during the middle, no scene came nearly as far as the sudden opening came. Most displays, in fact, were disgustingly trashy shots of soft core rape. While sometimes this can benefit a thriller atmosphere, this instead has obvious zoom-ins to "naughty bits" throughout. It's shocking and disgusting at the same time, and the brutality is set off when it seems that the director's intention is for your sexual gratification. The other aspect that isn't present is any sympathy for the characters. I couldn't feel at all for the victims, as they were mostly snobbish, arrogant pricks, the same kind of people I feel like beating the hell out of. Their ulterior motive revealed at the end justifies this feeling. It makes them no better than Alex. The one person I did sympathize with, however, was Ricky. He's trapped between his morals and his loyalty to Alex. It's very sad to see this innocent man turned wicked by a rapist, and then begin to breakdown in the middle of the film. He tries to do what's right and end Alex's rampage, creating one of the most touching scenes I've ever seen, when Alex comforts his friend when he accidentally stabs him in his onslaught. I think this (plus the fact that there's no slow point) prevents the movie from being a total failure. Then, as promised, the hard-hitting ending is present, when new comer Cindy is kidnapped, raped, and tortured with a straight razor by Alex in a scene that's one of the most disturbing of all-time. Based on content alone, this is extremely disturbing, yet highly ineffective overall. In the end, some smart and disturbing angles are present, but there are some parts that are too corny, sleazy, or even funny to make this a good movie. For instance, there's a close-up, slow motion wail from David Hess when he's shot in his manhood that had me in hysterics. It was almost like comic relief, which is disappointing to see in Deodato. To an extent, it's well acted, but these genuinely silly directing decisions pull this way down. Also, when making a brutal thriller, if there's any exploitation present, it shouldn't be sexploitation. I'd hate to compare this to I Spit on Your Grave, but I'd say that was so shocking because their were very few (if any) sexploitation angles present. Better movies like Last House on the Left aren't exploitation at all. That's why The House on the Edge of the Park doesn't work as well as I hoped. However, there are still extremely brutal moments, and the lack of sympathy from every character is truly chilling. Being a Deodato fan, I have to praise this for those extreme and disturbing angles that are present.
David Ladd
Super Reviewer
½
HOUSE BY THE EDGE OF THE PARK, for all it's on screen ugliness, is shot in a manner of rare beauty.To look at the plot synopsis, it reads as(and sometimes is) a sickening and at times, unwatchable movie. Yet it stays with you long after you've watched it. A feeling that you've just witnessed a gruesome fairytale, is felt by the viewer, and the final plot twist is quite unexpected as well! PLOT; Sadistic rapist/murderer, ALEX and his (slightly) retarded buddy, find themselves at a party for spoilt rich kids. Our two villains are there to be purely mocked, for their apparent lack of 'class'...However, ALEX doesn't like to be laughed at, so with his straight-razor, he and his friend begin turning the party into a seige, and subject the rich kids to a night of humiliation and rape. Perhaps it's the direction, that takes no prisoners, or maybe it's RIZ ORTOLANI's music score (that 'cindy-oh-cindy' theme is forever stuck in my mind)...but the one lasting image is that of DAVID HESS After playing a similar character in LAST HOUSE ON THE LEFT, HESS really pulls out all the stops in this one. His character, although a ruthless psychopath, is in turn, fleshed out, sensitive, and in (minor) terms provoked, by a a group of morally ugly rich (young) adults. The (supposed) good guys (and gals) in this movie are, in their own way, just as repulsive as ALEX and his dim-witted partner (MORGHEN) Supprisingly enough, the movie is almost murder free, so it seems that the whole plot is two-thirds poetic justice, for all concerned...That is, until, young Cindy turns up at the party. Then, the movie (and HESS's character) take an extremely nasty turn. Any technical faults, this unrelenting movie has, will soon be wiped away in the memory, but the underlining feeling of gut-wrenching savagery will remain for many night(mares) to come
Cassandra Maples
Super Reviewer
Another shocker from Ruggero Deodato with John Morghen and David Hess starring - two actors I do enjoy. Contains some really perverse scenes of rape and sexual theat that may be too much for some, but there's a twist in the plot at the end to even the odds. It isn't a great film though, no gore neither. But if you like controversy filled movies than this is one to experience.
La casa sperduta nel parco (House on the Edge of the Park) Quotes
There are no approved quotes yet for this movie.