How I Ended This Summer
(2010)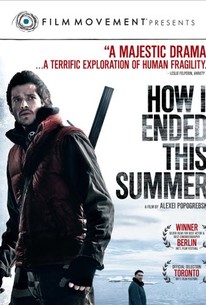 How I Ended This Summer Photos
Movie Info
On a desolate island in the Arctic Circle, two men work at a small meteorological station, taking readings from their radioactive surroundings. Sergei, a gruff professional in his fifties, takes his job very seriously. His new partner, bright eyed college grad Pavel, retreats to his MP3 player and video games to avoid Sergei's imposing presence. One day while Sergei is out, inexperienced Pavel receives terrible news for Sergei from HQ. Intimidated, Pavel can't bring himself to disclose the information. When the truth is finally revealed, the consequences explode against a chilling backdrop of thick fog, sharp rocks, and the merciless Arctic Sea. -- (C) Film Movement
Critic Reviews for How I Ended This Summer
Audience Reviews for How I Ended This Summer
½
Oh, youngsters these days and their shooting video games, iPods with techno pop, and not wanting to fish or tell their co-worker about mistakes and tragedies in fear that white-hot fury would be taken out on them. No, people, this film isn't as dull as I feared it would be, but the fact of the matter is that this film isn't quite as much fun as its title may lead you to believe, and not just because it's about someone kind of fearing for his life by the end of this "story". So yeah, I guess you could say that you haven't quite heard of ending the summer with a bang until you've seen this film. I of course mean that literally, because even though there is definately some gun threats in this film, it's not quite exciting enough to be suspenseful. Seriously though, if this film's atmosphere isn't enough of a reflection of Russian's love of cold stuff, it's the fact that, of all the places outside of Russia in which they could find work, they end up hanging out in the middle of the Arctic while the ghosts of the poor Stalin-opposers who ended up exiled to Siberia are looking at them, threatening to torture each other, and saying, "You guys have got it so good." If these призраки said this in no other setting, then it was the 2010 Berlin International Film Festival, whose nominating this film for a Golden Bears (Bears are big enough in Russia, but "golden" ones?) that it doesn't deserve shows that differences between Germany and Russia are all but buried, well, somewhere that isn't in the snow, where a Russian could easily find it during their spring break or something. Shoot, maybe this film was just destined to be up for high accolades at the BIFF, because if that festival that I don't keep up with too much is anything like France's Cannes Film Festival, then this film has to deserve at least a little bit of recognition for being dull. No, people, I like this film just fine, largely because it stands to be duller, and yet, with that said, at the end of the day, we're not really dealing all that thrilling of a thriller, which, in all fairness, was never to be too exciting, what with the thinness in its story concept. Before I even looked all that deeply into the structuring of this film's story concept, I wasn't exactly expecting all that thick of a plot, and when I did read more into Alexei Popogrebski's storytelling sensibilities, I was expecting plotting to be so thin that I would end up looking at yet another boring art piece that's a whole lot more souless style than substance, so you can imagine my relief in finding that the final product, while not without plenty of dull spells, is not as thin as I feared, which isn't to say that it succeeds in being meatier than I initially expected it to be, because at the end of the day, this plot is still pretty thin, no matter how much it tries to blow things up. At almost 130 minutes, this film is much longer than it needs to be, seeing as how its story is so thin, even in concept, and achieves such a length mainly through plenty of padding, some of which is excess material and exposition, and most of which is simply absolute nothingness that stops momentum cold, occasionally to the point of leaving the film to slip into the mediocrity I feared was going to conquer it on the whole. The aimless bloating within this film's storytelling isn't so extreme that the final product drives your patience much too often and much too much for it to be even mildly worthy of your time, but this film is in no way a stranger to repetition, suffering from too much padding that perhaps could be easier to forgive if it wasn't backed by some serious atmospheric pacing issues. Again, this film isn't the tedious chore of a bore that I was fearing it would be, and even that fact isn't one to not cause something of an issue, because as consistently slow as this film is, there still come occasions in which storytelling's steady flow is broken up by a relatively lively kick that is rarely, if ever too hard, but just noticeable enough for you to find yourself thrown off by shifts in pacing. Of course, quite frankly, I honestly wish that this film was much more uneven with its pacing, because although there is enough kick to things to keep the final product from being too boring to be engaging at all, when this film faces trouble with the task of finding something to do, - as it very often does - things slow down something fierce, sometimes to a crawl, and consistently to a dull point. The film is a little boring, plain and simple, and sure, it offers just enough compensation for its slow spells - of which there are oh so many - to be reasonably enjoyable on the whole, but at the end of the day, this film is about as underwhelming as you can get while still being fairly decent. Still, make no mistake, this film is decent, being a very slow watch that will undoubtedly be too much of a challenge to plenty, but one that the patient can enjoy, especially when we come to an all too rare occasion when things are actually livened up a bit. Music is pretty sparse in this overly quiet film, and when it is, in fact, brought into play, it's almost always presented through young Grigoriy Dobrygin's Pavel character's iPod playlist in the form of a contemporaneous pop-rock instrumental that's more fluff than soul, so I won't go so far as to say that I like this film's soundtrack, but as a supplement to what lively spots there are in this slow effort, this music breathes some energy into things that may help in backing up the occasions of unevenness within pacing, but still gives certain moments some much-needed color. A more consistent compliment to the color of this film is, of course, Pavel Kostomarov's cinematography, which is hardly as upstanding as far too many people say, but still quite commendable, at least at times, as there are plenty of simply average points in coloring and lighting, until they are broken by moments in which Kostomarov puts his fine taste in framing to good use by absorbing the full depths of color and lighting within this film's environment in a crisp fashion that catches your eye, and occasionally your breath. The film is a commendable visual piece, there's no denying that, being not as pretty as plenty of other, maybe even slower and thinner films of this type, but still quite good-looking, with plenty of artistic style that helps in keeping you going, almost as much as the undeniably intriguing areas of this film's concepts. Like I said, this film's plot is a thin one, even on paper, so it's not like you should have ever expected this puppy to pick up all that much, and yet, it is hard to deny that certain spots within this barely juicy tale do have a bit of a kick to them, especially when such kick is brought to life by moments within Alexei Popogrebski's direction that are, in fact, effective in their playing with a tightly meditative atmosphere to create some sense of claustrophobic tension that reinforces this film's consequential value, however thin it may be. There's really not much too this film, and such minimalist storytelling has been the death of plenty of other slow dramatic "thrillers", yet there is a certain genuineness at the center of this overly meditatie storytelling that has too often devolved into repulsive pretension, and helps in breathing life into an undeniably adequate degree of engagement value, which goes further reinforced by a pair of genuinely effective performances. The film is centered around only two people, and considering that this film is skating on thin ice (Pun pertaining to this film's Arctic setting not intended), the performance of our leads can make or break the final product, and sure enough, while our leads aren't too strong, they are commendable, with Sergei Puskepalis convincing as the mysterious older gentleman who can either be a good friend or a serious danger, while the handsome Grigoriy Dobygin (I'm guessing his first name means Gregory; Russians, what are you gonna do?) particularly compels in his often emotionally involved portrayal of a young man whose environment and colleague will present to him dangers that could very well threaten his life for his own mistakes. The leads may have both taken home Silver Bears, but I don't feel as though we're looking at Oscar-worthy performances here, though we are definately looking at competent talents who do quite a bit in driving this film, which is an often dull mess, but one that is surprisingly and thankfully more enjoyable than not, no matter how much a challenge it may be to some. At the end of the summer, or at least the day, you're left with a film that takes some serious immediate damage from a thin plot concept, whose issues go emphasized by plenty of bloating, as well as an unevenness in pacing that mostly lands in territories of a slow nature that often dull things down, almost to the point of plunging the film into mediocrity, and decidedly to the point of plunging the final product into underwhelmingness, though not so deeply that it doesn't recover as decent more often than I expected, as there is just enough color to visual style, intrigue to storytelling and engagement value to acting to make "How I Ended This Summer" a reasonably engaging theater that stands to pick up the pace, but doesn't fall behind to surely that you can't stick with it more often than not. 2.5/5 - Fair
Cameron Johnson
Super Reviewer
½
I was really drawn in for the first half of this movie, even though it was rather slow. After that point, it seemed to take a detour into the "odd zone". Then, it veered back into decent movie again toward the end. This movie is very typically Russian, with black doom weighing heavily over everything. Too bad it veered, because I would have enjoyed this more. I have to say, however, the guy that played the young intern (Grigori Dobrygin) was very enjoyable to watch. I will be following his career very closely.....
Cynthia S.
Super Reviewer
½
"How I Ended This Summer" is a suspenseful movie, yet not in a traditional sense, as it neatly paced in a slow burn in a remote weather station that has an uneasy blend of ancient and new technology(for example, it is especially awkward trying to do an emoticon over the radio) on an island in the Russian Arctic in the permanent daylight of summer. And if I have any serious problem with this movie, it is that it does not take as much advantage of its unique setting as it should but then the conflict here involves more humans than nature. I am sure at some point that Pavel(Grigoriy Dobrygin) thought that the job would be easy enough money, requiring a few simple measurements, sleep, playing video games, sleep and listening to his iPod. Then, there is a very good reason that his older co-worker Sergei(Sergey Puskepalis) tells him about the time he held off a pack of polar bears with just a toothbrush, in that the land is unforgiving and to always be prepared. This also has a side effect of intimidating Pavel and it is not until a scene in a sauna that we realize how lanky Pavel really is underneath all of his bulky clothing. In any case, Sergei has been around long enough not only to be cautious about possible dangers but as to what he can get away with when nobody is looking. So, he takes off for a few days to go trout fishing, leaving Pavel to take the measurements with the help of 'an alarm clock that could wake the dead' and if he gets hungry there is walrus meat(but no booze?). And that's when the news arrives from the mainland.
How I Ended This Summer Quotes
There are no approved quotes yet for this movie.