Howling IV: The Original Nightmare
(1988)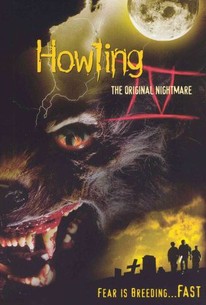 AUDIENCE SCORE
Critic Consensus: No consensus yet.
Movie Info
Shot in South Africa, this direct-to-video installment of the werewolf series continues that franchise's tradition of generating sequels light-years distant from the quality of Joe Dante's witty and frightening original. The fourth chapter even attempts to rewrite the original film's premise, which admittedly took grand liberties with the novel by Gary Brandner. The revamped tale involves successful author Marie (Romy Windsor), who visits the scenic woodland town of Drago to find respite from constant nightmare visions involving werewolves and a mysterious nun. Needless to say, her stay in the village does nothing to dispel the visions, which increase in frequency and seem to suggest strange portents of evil events to come...and a warning to get out of town before the next full moon.
Critic Reviews for Howling IV: The Original Nightmare
Audience Reviews for Howling IV: The Original Nightmare
Fourth film in this franchise of werewolf films is yet another boring affair. Established horror director John Hough (American Gothic) directs this film, but due to a poor script (as usual), the film goes nowhere. The results are wasted on-screen. Howling IV continues the trend of this franchise to create awful, pointless and unnecessary sequels to a classic horror film. With every sequel that has been produced in this series, the series has reached ultimate lows of mediocrity. This film though directed by a good horror director is total garbage. The film is a mess from start to finish and the cast here awful and add to that a poor plot, and you have yet another poor sequel. Since this is the fourth entry in The Howling franchise. You wonder why they're keeping making such poor sequels. These sequels are uninteresting, and this fourth entry is like every other film in the franchise that followed the original, it's a film with barely anything terrifying elements, and it doesn't do anything to thrill you. In fact, I was very bored watching this film, and I couldn't believe that this passed as a sequel to The Howling. I absolutely hated this film, and it has many flaws like the virtual absence of actual werewolves. If this is a werewolf film, you'd expect a bit more werewolf activity, right? This fourth film is yet another failed attempt at cashing in on a classic film, and it will once again disappoint fans of the original
There are different werewolf movies and it will be wrong me to say I dont enjoy werewolf movies, I do but this made me yawn.
Howling IV: The Original Nightmare Quotes
There are no approved quotes yet for this movie.