Humanité
(2000)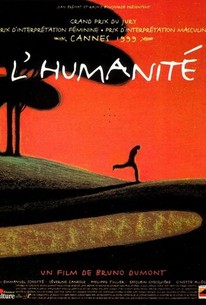 Movie Info
Pharaon de Winter is a police lieutenant whose achilles' heel is his empathy -- which makes work on a sordid murder investigation an excruciating exploration of universal guilt and the monstrous underbelly of human nature.
Critic Reviews for Humanité
Audience Reviews for Humanité
I was shockingly surprised when I found that the pace of this award winning movie was far more killing than its content. To say that it's the slowest movie I've ever watched might be an exaggeration, but it surely is the slowest movie I've watched this year. It seemed like it took generations to move ahead. But since it belonged to one of my favorite genres (mystery) and also won certain awards at Cannes Film Festival, I thought that it'd be worth suffering. Within minutes into the film, I'd predicted who would have perpetrated the crime. But I sat through it believing that I'd be wrong at least here. And I was wrong. Before you get it wrong, let me clarify that I sure was wrong..... but in predicting that I'd be wrong regarding my prediction. I didn't dig much into the story of the film before watching it since it was a mystery/drama. And I avoided reading reviews since more often than not they come with free spoilers. I started watching this approx. 147 minutes looooooong movie believing that it'd be a murder mystery. But it hardly moved into that direction. It seemed to be some sort of drama which was way out of my taste and for which I wasn't prepared at all. And for once (those of you who emphasize on accuracy, feel free to replace "for once" by "once again") I missed the point of the movie, if at all there was one. I still have no clue about it and I don't care to; my head is still spinning and I'm filled with umpteenth rage and violence for its makers. Emmanuel Schotte hardly had any expressions, and I don't feel that was a mean feat. To carry on with that blank and expressionless face throughout the movie must have been more of a drag than the movie itself. And that he survived it is worth loads of awards. I can't say about the rest of the actors. Recommended for those who love 'different' kind of movies. They simply can't dare afford to miss out this one; it's once in a lifetime opportunity (for, who knows, there may be no life in you sooner than later you've started watching it). Good luck if you're going to watch it.
familiar stranger
Super Reviewer
[font=Century Gothic]"Humanite" starts out in a small French village where everybody knows everybody else. An eleven year old girl has been brutally raped and murdered. Police superintendent Pharaon de Winter is on the case...or is he?(To be honest, he certainly is agonizing over the case.) He does seem to be spending most of the time as a third wheel to a couple, Domino and Joseph, who can barely keep their hands to themselves. In this kind of relationship, there seems to be something going on between Pharaon and Domino, but on a platonic level. [/font] [font=Century Gothic][/font] [font=Century Gothic]I watched the first half of "Humanite" on Thursday night and at first found the movie extremely off-putting. I was not quite sure what to make of the characters or the situation for that matter.(And the occasional extreme close-up was not helping either.) But then I spent the following day thinking it over and it dawned on me that what was happening in the movie was fairly straightforward - an investigation of a brutal murder in a rural precinct that was simply ill-equipped and was not prepared to handle such an investigation. This definitely helped in watching the second half of the movie the following night. What makes this movie unique is its novelistic structure - incorporating the individual stories of the characters into the movie and occasionally subordinating the investigation to the background. [/font]
Humanité Quotes
There are no approved quotes yet for this movie.