I Declare War
(2013)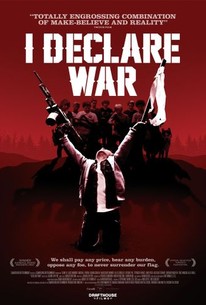 Movie Info
Armed with nothing more than twigs, their imaginations and a simple set of rules, a group of 12-year-olds engaged in a lively game of Capture the Flag in the neighborhood woods start dangerously blurring the lines between make-believe and reality. Rocks = Grenades. Trees = Control towers. Sticks = Submachine guns. The youthful innocence of the game gradually takes on a different tone as the quest for victory pushes the boundaries of friendship. The would-be warriors get a searing glimpse of humanity's dark side as their combat scenario takes them beyond the rules of the game and into an adventure where fantasy combat clashes with the real world. (c) Drafthouse Films
People Who Like this movie also like
News & Interviews for I Declare War
Critic Reviews for I Declare War
Audience Reviews for I Declare War
Honestly, this is a really cool concept for a movie. A kids' game of Capture the Flag where make-believe and reality merge where the kids weapons, made of sticks and rocks, become actual guns and grenades in their own imagination. So, really, it's a film about the importance of fostering kids' imagination and letting them be creative in their own way. But, oddly enough, it's also about how kids grow up in a violent environment, right down to the very games the play and how that fosters a mentality where they grow up to think that war is perfectly normal. It's not like the film explicitly states this, I think it lets the film play out without interjecting too much of an agenda into it, but it's something that you definitely pick up on as you see these kids pretty much behaving in ways that adults do when put in the same in, obviously, more serious situations. So the film definitely works in a number of different ways. It's also got a surprising little narrative arc when it comes to the PK, Skinner and Kwon. So I like how they explore that and PK's willingness to sacrifice his best friend in order to win the game. It does come across kind of silly, when the only way you can be killed is being throw with a balloon full of some red-like liquid resembling blood, but it does say a lot about the type of person PK might grow up to be if he goes down this path, particularly if, if his intelligence at strategy is to be any factor, he becomes a high-ranking soldier at one point. The willingness with which he is able to sacrifice those closest to him in order to win a battle is definitely not one of the positive parts of his personality. So I thought that was cool, but I think the movie does do a good job at being entertaining as well. It's a good movie, but I don't think there's really enough here to justify this as a full-length movie, it has a sort of samey feel to it, there's not a whole of thematic variety in the film, though I did really Jess' arc as the person who's been most affected by the casualties of war as she keeps seeing someone, her crush, that isn't there as he was "killed" earlier in the game. I thought that was clever and might've been some of the best stuff in the entire film. But, really, this is a movie that doesn't really come together as well as its concept might suggest. This was, honestly, better suited as a short movie as opposed to a full-length one. With that said, however, I still quite enjoyed this movie. It might not be perfect, but they do find a way to make it entertaining while also being slightly thought-provoking. This isn't Ex Machina, after all, but it does bring up some interesting questions, so I'd recommend it. It's not great, but there's some good stuff here that audiences will enjoy.
Jesse Ortega
Super Reviewer
½
***1/2 "I Declare War" is a ballsy movie, that I'm surprised was able to get made in today's world. I'm glad it did, it just surprises me. The movie is basically a game of capture the flag between a group of 12-13 year old kids out in the woods. They use sticks as guns, water balloons as bombs, and real world tactics to win. But, the movie is shown through their eyes as to what they see. Which is machine guns, bazooka's, blood, and death. This is very R rated, which is perfect, because it's exactly how it should be. When I was little and played stuff like this it's exactly how I saw it. When you shot your friend you saw in your mind them get shot, that's why they call it pretend. There is a lot of cussing and violence, but again this is how real teens are when they do this. I can see why a lot of people would be put off by it, or disgusted, especially with all the gun violence in schools today. But, you have to forget that when seeing this. These kids are playing a game, a game that just about every kid plays at some point. I'm glad it wasn't a PG movie where they are nicey nice with each other. Very accurate, and very entertaining. There are some good twists and turns, and the lines between what is real and pretend get blurry. But, at the end it's a fantastic film, that will remind you of what it's like to be a kid. The good, the bad, and the ugly of it all.
Everett Johnson
Super Reviewer
½
Underneath the waves of summer blockbusters and groundbreaking independent films are smaller, not widely discussed efforts despite the praise they receive. I Declare War is one of those movies having debuted as a work-in-progress print at ActionFest in North Carolina in April, where it took home the jury prizes for Best Film and Best Screenplay. It then went on to a triumphant premiere at last month's Toronto International Film Festival. It later took top honors in Texas, winning the Fantastic Fest Audience Award. If the film speaks for itself it proves its praises are all well earned with a gleeful sendup to war films and remembers it was to be a kid. I Declare War takes place during summer in the middle of a war game between neighbourhood kids turning deadly serious when jealousy and betrayal enter the mix. The premise will leave some unfulfilled with the results in terms of silly motivations, kids taking a game of war serious, and speaking in ways kids don't normally do. Although the film accomplishes what it sets out to do successfully. It's not trying to be a metaphor for complicated issues, but a pleasant dark comedy. The kids take this simple game of war seriously and therefore we do too with how it's handled. Being character driven with each kid having their own personality and motivation for taking part of this game of war. For some it is simple like making friends and for the only girl in the game to impress a boy she likes. To silly ones from killing (with painted filled balloons) a general for not wanting to take hostage against the rules to making a boy get a leaf to break the teammates trust. The kids themselves play the game with more wit than actual imaginary stick gunplay. The two kids general are always planning ways to defeat and outsmart the enemy. I dare say it's more witty than some war films make themselves look. Outsmarting in a battle keeps this simple kids game engaging wanting to see what the next offensive or defensive strategy is next. The humor is spot on poking fun of the war film archetypes portrayed by kids. Taking the game itself very serious to create situations and unexpected outcomes with how the kids solve them. Also, the dialogue these kids speak while outrageous (a kid general talks about Napoleon Bonaparte and his leadership) it is at all time moving things forward and developing the characters. If you're expecting some deep commentary on how kids see violence you won't that get that here. It doesn't encourage violence among the youth (it actually discourages it), but replicate what it felt like fun we once had as a kid. The acting from the young and consistent age cast is good. They are believable in their role not only acting like kids, but being offer the freedom to improvise scenes and dialogue make their acting stronger. This freedom pays off well offering laughs and a sense of a strong friendship among the cast. The entire film is shot in the woods. The camera-work is virtually all steady maintaining fluid motion throughout, despite the natural obstacles inherent in shooting on a forest floor. The combatants often move with the frame and not through it, as though we were running right alongside them. These tracking shots bring the viewer right into the action, allowing us to feel as if we're part of the game. So much you will at times have trouble distinguishing what's imaginary and what's real. Composers Eric Cadesky and Nick Dyer crafted an intricate score that's surprisingly heavy, serving as a perfect dramatic counterpoint to the child's play in the great outdoors. The action dictates the viewer's emotions, not the clichéd tugging of heartstrings with violins and cellos, and that's as it should be. I Declare War is a delightful dark comedy that makes war film cliches amusing and one that makes reminds how it to be a kid. It is gleefully overblown, ridiculous, and allot of fun just like the times we all played games with our friends as kid.
Caesar Mendez
Super Reviewer
I Declare War Quotes
| | |
| --- | --- |
| Kwon: | What are you doing after the war? |
| PK: | You are coming over and eating pizza and watch some movie. |